Rugby Christmas Cards 2019
Date: 30 October, 2019 17:24
Deck the Mauls, they're back!

LooseHeads rugby themed Christmas Cards are back on sale at www.looseheads.co.uk

All profits from their sale go to the Matt Hampson Foundation and junior grassroots rugby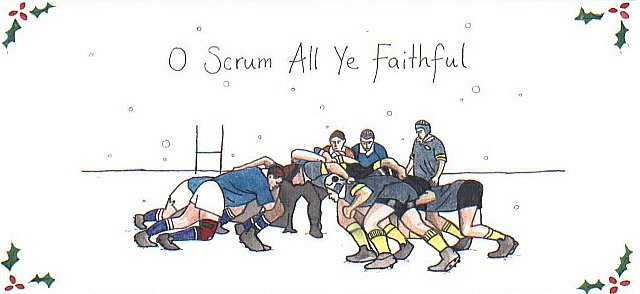 Edited 3 time(s). Last edit at 01/11/2019 13:07 by LooseHead.
Re: Rugby Christmas Cards 2019
Posted by:
kath.
(IP Logged)
Date: 01 November, 2019 15:44
Had these before and they are really lovely
Re: Rugby Christmas Cards 2019
Date: 08 November, 2019 10:19
Thanks Kath for your kind words about our cards.

Hope you visit us again this Christmas or tell all your friends about us.

Many Thanks and wishing you a Scrummy Christmas, The LooseHeads
Re: Rugby Christmas Cards 2019
Date: 28 November, 2019 09:19
We are supporting The Matt Hampson Foundation (providing support & treatment for anyone suffering serious injury or disability particularly from participation in sport) by selling a range of fun, rugby themed Christmas cards.

Below is another card from our range, there are 12 different designs in total.

The full range can be viewed at www.looseheads.co.uk
Sorry, only registered users may post in this forum.