My favourite Arsenal player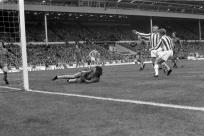 Eastham defeats Chelsea
By Boris Mellor
March 24 2020
The following article is a slightly enhanced version of an answer I gave to who is your favourite player on the AT forum. A link to the original and discussion is at very bottom of article. I apologise for any poor editing, but I am busy doing nothing.
Who is my favourite player
So many, so many, and so many good defenders to leave out, so many strikers, so many ball players, so many keepers and none of them my all time favourite. But the question is who is your favourite player, not who scientifically proved by Opta Stats is the best player. This is a personal choice, so don't ask why Wrighty or Henry aren't here, and I admired them both, or Brady, or Seaman, or Kelsey, I saw them all. This is my personal choice and it has to end up as one, not eleven.

I have watched Arsenal for seven decades, and seen great players in every one of those decades, for two of those decades I lived around the corner from the ground, I still live no farther than 2 miles away, 3 stop to Drayton Park the nearest station to the main entrance.
During those decades even when we didn't win things there were still great players.
In the mid-sixties when we were very poor we still had great players, and my favourite then was George Eastham a World Cup Winners Medalist. He was a ball player, frail legs like matchsticks, but somehow he evaded brutal defenders to make great plays or score great goals. The only trophy I think he ever won was the League Cup with Stoke City, before you puke City was the then home of Stanley Matthews and the team Eastham scored against to win the Yoghurt Cup or whatever it was called then was Chelsea, what's not to like? I even spent a whole evening chatting to him, a modest man, a teetotaller, but prepared to sit and chat to young fans unchaperoned by club officials. When he retired he went to South Africa to join Stan in the township coaching young black players whilst Roy Hodgson was taking money to play in all white teams.

Eastham second from far right first row next to Geordie Armstrong
Alan Ball was the next ball player to become my hero an amazing player, another World Cup Winner and he broke the transfer record for Arsenal at £200,000 Xmas 1972, at least that was how I remembered it. It showed ambition by the club The idea was he would reinforce the 1971 double team. He was amazing a truly modern player, ran box to box, fit in anywhere. Was a tiny winger who played striker to stop Arsenal being relegated in the immediate post double years. He got a strikers tally and Arsenal stayed up. He seemed to be able to use every square inch of his boots, to pass and shoot, never caught hanging on to the ball too long. Only problem was he was too bright for most of them. A Ball of fire.


So that's three not one, okay you are forcing me to choose, and the winner is ....
Bergkamp!
Finally another ball/playmaker come striker Dennis Bergkamp who arrived in the 90s and stayed until the very end of Old Highbury. He accepted a yearly rolling contract on reduced wages in his final years, but still delivered. Worked hard where ever told to play, remember that final we beat Man U after playing shite? I still laugh about it. He played lone striker for the whole game.
Strangely he never won the World Cup, but scored one of the greatest goals ever in it, the one against Argentina, I remember it being rated in the all time top ten somewhere, look it up, its grace and skill personified. And of course scored some amazing goals for Arsenal and delivered some amazing through balls and flick ons. Possibly his act of genius at Newcastle was his greatest goal, but that wasn't a trademark goal of his, but a brilliant one off, no accident but a force of nature that will never be copied.
Why?
Because after a poor start he won a lot with Arsenal and that was partly because he had a nasty streak, he had amazing skills, understood space time, and geometry, but he always had time for a whiff of sulphur and the cloven hoof. I have seen many goals and they all meld into one, Bergy has two goals I will never forget. But my happiest moment was when he forearm smashed the most annoying player in the Premiership Steve Lomas in the first half of an important cup tie. In those days there were no wimps, no one blamed Bergy and I don't remember him apologising, but the team went onto beat West Ham and progress in the Cup. It also probably explains why most thuggish players kept away from him.
What a player, he had everything, enforcer, scorer, playmaker, and winner of trophies.
The Ice Man is my number one