Gooners Excited about return of Premiership? Don't bother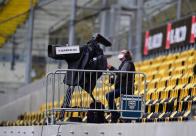 By Boris Mellor
June 10 2020
Maybe I have missed something, and will be happy to be corrected, but I can't find any free to air matches for Arsenal up to 1 July. What happens after that I don't know.
Below is a list of the first tranche of free matches, Arsenal is not included. So unless you can afford both Sky and BT you won't be seeing any Arsenal matches before July, and even then no idea if we will be on TV.
The medium is the message and on this occasion the message to Arsenal fans is get fecked.
Friday 19 June, Norwich vs Southampton, 6pm kick-off, Sky Sports/Pick
Saturday 20 June, Bournemouth vs Crystal Palace, 7.45pm, BBC
Sunday 21 June, Newcastle vs Sheffield United, 2pm, Sky Sports/Pick
Sunday 21 June, Everton vs Liverpool, 7pm, Sky Sports/Pick
Wednesday 24 June, Manchester United vs Sheffield United, 6pm, Sky Sports/Pick
Wednesday 24 June, Norwich vs Everton, 6pm, BBC
Thursday 25 June, Burnley vs Watford, 6pm, Sky Sports/Pick
Sunday 28 June, Watford vs Southampton, 4.30pm, Sky Sports/Pick
Monday 29 June, Crystal Palace vs Burnley, 8pm, Amazon Prime Video
Tuesday 30 June, Brighton vs Manchester United, 8.15pm, Sky Sports/Pick
Wednesday 1 July, Bournemouth vs Newcastle, 6pm, Sky Sports/Pick
Of course you can enjoy the replay of Arsenal beating Charlton 6-0 on Arsenal.com, especially enjoyable for those who like social distancing as Charlton's defence stood off so we could score some great goals. Makes a change from watching Arsenal's socially distanced defence. Excited? I'm underwhelmed.
pqs: qs: