SILVER BULLET? ONE FANTASY SIGNING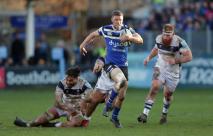 Priestland: sole option?
By P G Tips
June 23 2020
In the absence of real rugby to discuss, many fans' focus has turned to recruitment. Bath's early June squad update brought three very welcome signings, but also news of Francois Louw's retirement and 15 other departures – so raising a number of questions. Stuart Hooper has said "Our recruitment cycle has not completely finished yet" so I thought it would be fun to consider one "silver bullet" signing to complete the squad and improve Bath's chances of a playoff place for next season.
Although 16 departures would seem to free a lot of cap, any signing would need to be justified economically in light of the financial damage done by the Coronavirus pandemic- which is why I am limiting my choice to one. I can see four areas to consider: Head Coach, Fly Half, Goal kicker and an "Awareness" Coach. Let's look at each in turn.
HEAD COACH
At the beginning of the season Stuart told us he was "open to additions to the coaching team", emphasising though that any appointment must be "the right fit." Reports in various rugby papers and The Times in January stated that Joe Schmidt was to join Bath as Head Coach. A flurry of excitement among Rec supporters was quickly dampened when Hooper himself dismissed the move as a rumour. Undoubtedly Schmidt was a winner with Leinster and Ireland, but would he have been the "right fit"? A dominant character, he favoured a highly systematic playing style with little room for the sort of individual flair which often characterised the best of Bath's play in the past. There is also the question of how much control a man of his pedigree would want and whether he could fit comfortably in Bath's current coaching setup. An extra twist is a comment recently attributed to Rhys Webb, that he was "impressed by Bath's DOR Stuart Hooper and Head Coach Neal Hatley." For now I suspect, a Head Coach appointment is on hold, unless it is a member of the current coaching group.
FLY HALF
Freddie Burns has departed, target tens are rumoured to have turned Bath down and none of the Academy promotions is an out and out Fly Half. That leaves the club with only Rhys Priestland, Senior Academy prospect Orlando Bailey, or cover from one of the other backline players. Stuart has said that Bath are looking at some options of "ball playing midfield backs" – players who could play 10, but not solely 10. Such phrasing suggests Rhys Priestland is the anticipated first choice, but what if he is injured? Who covers in other competitions or when he needs a rest? This seems to be the area of most pressing need. While both Josh Matavesi and Cameron Redpath can play 10,they have been recruited for their distributive and line breaking potential at 12. There seem to be few pedigree 10s available from the Northern Hemisphere, so it is likely that potential candidates are from the south. A vital area to strengthen – and I hope the club have an experienced and exciting prospect in mind.
GOAL KICKER
The slim Fly Half resources highlight another area where Bath are light. The departure of Freddie Burns and Tom Homer leaves Rhys Priestland on his own as a "front line" goal kicker. He cannot play every match, so who is his backup? Perhaps one of the academy lads can step up when needed? Josh Matavesi has a handy boot, but no known pedigree as a goalkicker. Of the known squad for the new season the best bet seems to be Ben Spencer, who once struck a winning penalty in a LV Cup Final. Another option could be, given that players have had three months to work on individual skills, that one or more of the squad have been tasked with a summer crash course. A key capability gap, but maybe not the highest recruitment priority-if answers can be found from within.
AWARENESS COACH
A late collapse at Sixways in 2019 and several close defeats this season suggest a mental problem when Bath have just taken the lead or are defending a narrow one. Ulster and Quins in the Heineken Cup, plus Wasps and Bristol (at the Rec) in the Premiership have benefitted either from lapses in defensive concentration by Bath or lack of awareness in attack when Bath were building pressure. Notably in the Bristol game a period of sustained pressure was wasted when persistence with the pick and drive, ignoring clear wide overlaps, ended in possession lost and Bristol clearing their lines. Bath already have in Katie Warriner a Sports Psychologist with an impressive record. A recruit in that area seems unlikely, but hopefully her remit can include awareness of opportunities and giving players the belief to seize them.
Any one of those could make the difference between mid table and a play off place, between squeezing out narrow wins and building a squad capable of taking on the best. Stuart Hooper is patiently building a squad for the future. He also seems content with his coaching and support team for the present. To me therefore the big need is an additional 10: preferably one with experience, ability to unlock a defence and a high goal kicking percentage. Let's hope Stuart has a player, and an announcement, up his sleeve.
pqs: qs: