WHO'S KISSED THE BLARNEY STONE? BATH V LONDON IRISH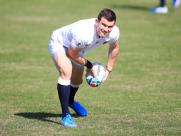 Spencer: key
By PG Tips
August 10 2020
It will be a case of "who's kissed the Blarney stone?' when the Premiership resumes on Saturday. Kissing the stone requires the kisser to approach the stone upside down and backwards – a metaphor for the contortions Directors of Rugby have had to cope with to train under Covid conditions. The phrase also of course refers to "the gift of the gab", a quality often ascribed to the Irish. Both sets of coaches will have employed their best motivating patter, but which side will be most eloquent on the pitch?
Preparing teams for the return to play while coping with "mid-season" departures and inducting new recruits will have tested the coaches' powers of communication and persuasion. Both clubs are in the mid table zone, trying to haul themselves into the playoffs and keep above the relegation dogfight (although the jostling at the bottom end of the table is of more relevance to European placings than dropping to the Championship-courtesy of Saracens' indiscretions). How the two teams approach this match could be a good guide to their ambitions for the rest of the season. For recently promoted Irish a finish in the top half would set them up nicely for next season and their stated ambition to be Premiership leaders in a few years' time. Bath Captain Charlie Ewels has been more bullish, stating recently that they aim to make the playoffs and win the Premiership this season. Both clubs have much to do to achieve those aims.
Irish have been less busy in the summer transfer market than most, their main notable signings Aussie lock Rob Simmons – not yet in the country – and the return of Bath fullback Tom Homer. They look likely to rely therefore on those who have stood them in good stead so far this campaign. Although their form has been patchy, with only 5 wins from 13 matches and 3 defeats from 6 since Christmas, they have the look of a settled team. A team capable of strong away performances, such as a draw at Ashton Gate, a feat beyond Bath for two seasons. They can call on seasoned campaigners up front in van Der Merwe, O'Brien and the constantly combative Cowan. It is also rumoured that they have secured the services of Puma hooker Creevy. Behind the scrum luminaries include Nick Phipps, Paddy Jackson and now Tom Homer, whose best performance for Bath this season was in his man of the Match showing against his new club. There are also rumours that Waisake Naholo is on his way back from New Zealand – he could be a big handful on the wing. If they are to avenge their humbling at the Madjeski in December, Homer and Naholo should be key weapons.
For Bath, conscious that the last meeting between these clubs was their only free flowing win of the season so far, the game is a chance to make a statement. If Bath are to have any chance of making the playoffs, they need to make hay in the first few rounds of renewed competition. Irish at home, a Leicester team in rebuild away, Northampton away, then Wasps at home offers 3 winnable games from 4 (possibly more, depending on how clubs manage their resources) and bonus points are essential if Bath are to justify a top 6 place, never mind top 4. Bath too have been comparatively quiet in recruiting, though Ben Spencer and Cameron Redpath could be key to backline fluency. Rumours about resurgent interest in Handre Pollard, or another expensive Bok, are best treated with caution until confirmed by the club.
The team announcement will be awaited with more than usual interest. Have any squad members succumbed to the Coronavirus? Who is injured? Will Bath trust some of the rising young stars, like De Glanville and Bailey? A game Bath are strongly tipped to win would seem the ideal time to blood these boys in Premiership action. Mostly, I expect a starting team of experienced players, with some of the young guns on the bench for impact.
The grounds are hard, the air will be warm, and the sun should break through Saturday's expected light showers- good weather for an open game. Bath must show that they have used the break wisely, upped the tempo and repaired their misfiring attack. By 5PM on Saturday we will know if the stronger blarney is green or Blue, Black and White. It is time for Bath to do their talking on the field. Bath to win with a bonus point.
Possible Teams
Bath: Obano, Dunn, Stuart, Ewels (Capt.), McNally, Ellis, Underhill, Faletau. B Spencer, Priestland. Cokanasiga, Matavesi, Joseph, Rokodoguni. Watson.
Replacements: Boyce, Walker, Thomas, W Spencer, Mercer. Green, Redpath, De Glanville.
London Irish: Dell, Creevy, Kepu, van Der Merwe, de Chaves, O'Brien, Cowan, Tuisue. Meehan, Jackson. Hassell Collins, Hepetema, Rona, Loader. Homer.
Replacements: Hoskins, Goodrick-Clarke, Chawatama, Maddison, Donnell. Phipps, Atkins.Naholo.
pqs: qs: