Can we dream Bath v Glaws match preview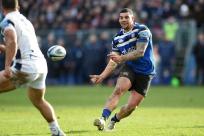 By Mr Frivilous
September 16 2020
By several quirks of fate, its just over two years since our friends from Gloucester last came to visit us at the Rec
A thrilling 31-31 draw with Bath old boy Matt Banahan scoring in the dying minutes to deny Bath a stunning comeback win from a 7-21 deficit at half time. It's sad but necessary that this fixture will be played behind closed doors.

There has been a lot of water under the Castle Grim drawbridge since then with changes in leadership, patchy form since the restart, out of the race for the top four and a particularly poor result against Quins last weekend. There's not much motivation left for climbing the table as the last golden ticket to the Heineken Cup seems virtually assured for Gloucester in eighth place, nine points clear of Worcester with two games to go. Quite the reverse for Bath, a lofty third in the table, a stunning win at Sale last time out and needing a bonus point win to keep in the race for the top four should be enough incentive for Bath.

Both teams not competing in European fixtures this weekend means plenty of rest until Tuesday's clash, welcome relief after a hectic schedule and time for the coaches and the sports psychologists to do their stuff and ponder over team selections.

For Bath it will be the strongest team possible with perhaps the conundrum of who to starts at half backs, Ben Spencer has been playing like a man possessed and Rhys Powlesland increasingly effective. It's tempting to start Will Chudley and Josh Matavesi with Ben and Rhys on the bench to keep the half back options fresh for Saracens. One's thing for sure If Danny Cipriani is playing at 10 facing Josh expect plenty of passing and kicking rather than running down Josh's channel.

For Gloucester who knows? A potentially easier fixture next up after Bath, at home to Northampton for that last point to secure eighth so it could be the second string, given ninth placed Worcester face Saracens and Sale they are highly unlikely to score the ten points they need to climb into eighth assuming Gloucester remain pointless. Or maybe spoiling Bath's party will be enough incentive to field the first choice?

This could be a close-run thing if Gloucester select a motivated first XV but hopefully the Hats and Hoops masterplan produces a Bath five pointer, not just for bragging rights but dare we dream for a place in the semi-finals?

PS for those of you who are missing the inimitable style of COML's very own Indiana Jones PG "Cerveza" Tips, he's on a charity walk across northern Spain so if you are up for a donation please visit the sticky on this forum.
pqs: qs: