Another Poor Show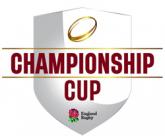 By Blues Brother
December 9 2019
Our interest in the Championship Cup is well and truly over but let's hope the competition has exposed shortcomings which we can put right for where it really matters - the league.
It is being said that Coventry were gifted two interception tries and that's a reason why they ran out out 37-12 winners. Not many Blues who were at Goldington Road would agree with that one.
We did put up a better show than we did in the 80-17 mauling at Trailfinders but that would not have been difficult.
We did have a better second half with a lot of pressure on the Coventry line and the appearance of Alafoti Fa'osiliva. We did score our first try when James Lennonwent over from close range.
We then had to wait until the very end for more consolation with Charlie Reed scoring in the very last move.
Thwere is one more Cup game to go - at Ampthill next week. We face the same derby opposition at Goldington Road on Boxing Day - 17 days to get it sorted.
pqs: qs: