Blast from the Past episode 2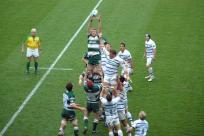 By ChrisC
April 17 2020
The match I'm previewing was played at Welford Road on 3rd April 2010, almost exactly a decade ago. The line up for Tigers: Ayeza. Mefin Davies and Castrogiovanni occupied the front row. The locks were: Louis Deacon and Geoff Parling The backrow comprised: Tom Croft, Lewis Moody and Jordan Crane. At half back were: Ben Youngs and Toby Flood while Tony Allen and Matt Smith were the centres with Alex Tuilagi, Scott Hamilton and Geordan Murphy making up the back three. Scorers for Tigers that spring day were: Parling (Try) Tuilagi (2 Tries) and Allen (Try). Toby Flood contributed 4 penalties and 3 Conversions. Sean Davey oversaw Tigers win by 43 Points to 20 while Welford Road had 22811 souls looking on. Tigers went on to top the league that season beating Saracens to pick up the pot as well. Happy days and what a fabulous team!!!
Here We Go Again
By Chris C
It's been a very long time since I wrote a match preview and so I may be a little rusty so for that I beg your indulgence.
The thing that has struck me most this season is the mess that the breakdown and tackle area has become. I am so sick of watching referees advertising Charles Atlas chest expanders as they ping yet another player for holding on in the tackle. The Law here seems to have been written by administrators who have never played the sport and indeed may have not even watched it and of course they have told the referees to be especially vigilant for this offence –I'm not sure that it was intended they should compensate by ignoring high tackles, blocking, offside, players flopping over the ball, forward passes and feeding the scrum, all of which seem to have become permissible while this vigilance on tacklers releasing the ball is exercised!
It seems that the tackler must release the tackled player, return to his feet and only then may he challenge for the ball and when he does can do so from any position however if the challenging player is not the tackler then he must challenge by remaining on his feet and entering the tackle area through the fabled "gate", what happens when there are two tacklers seems to be a moot point depending on who's officiating and who's turn it is to be pinged. Now it's a long time since I played the sport as a very poor #7, or open side wing forward as I remember it being called way back when dinosaurs wandered the Essex marshes and boots were made of leather and Dubbin was a prerequisite, but the thoughts and decisions the players are being asked to process in a split second, often with 18 stone players from both sides piling into and on top of them, beggars belief.
This all being abetted by some of the most random and inconsistent refereeing I have ever seen, it seems that some officials sort of understand what they should be doing but with the speed of the game the tackle area and breakdown seems to be largely controlled in an arbitrary fashion. Some referees penalising a tackled player for holding on in the tackle and expecting release at the speed of light others permitting a delay in release sufficient to permit the players to get into the first few chapters of a good book while they wait for the ball to appear.
The scrum is another area that has me out of my seat shouting as it is clear that some officials adopt a similarly arbitrary approach in controlling this classic part of the game, awarding penalties and free kicks on a sort of alternating buggins turn basis. In fact from what I've seen only Mr Poite consistently performs well in this area.
It would be a positive step if the majority of referees remembered that the spectators have come to see the players and not them as too often a referee spends too much time strutting around, preening and waving his arms around like Sir John Barbirolli.
I sometimes wonder just how low the bar must be set in judging the competence of some match officials and am left with the feeling that the hurdle must have been borrowed from an under sevens' sports day.
Finally what is this witless kicking tennis that goes on? I have been known to read the paper while the players decide if they are going to actually do something constructive.
Nevertheless Easter Saturday sees that most electric of circumstance return when Bath come to Welford Road, so let's hope things improve – I'm not holding my breath though!
It is a time when the atmosphere buzzes with the all grudges and slights of years and contests past coming to the fore yet again with the West Countrymen having largely slipped from their seat at the top table of English Club rugby during the professional era and liking that circumstance not one jot.
Last Saturday Tigers, in spite of a glossy 39 – 18 score line, had an awful, fumbling and lethargic first half against Worcester down at Sixways. The scrum came under pressure from the desperate Warriors and with a stubborn witlessness prevailing and persuading the Tigers' backs to kick away possession against a team that is vulnerable to attack from quick ball, exemplified by a well constructed opening score from the unfairly maligned Jeremy Staunton, who to my mind has performed the task for which he was purchased in an exemplary manner, with a willingness to play wherever required of him for the good of the team.
Against the odds Tigers went into half time a solitary point ahead. How the inspiration of Geordan Murphy, who withdrew at the last minute, was sorely needed.
Tigers opened the second half brightly and Flood found his kicking boots but all too soon they slipped back into their first half topor before Ben Youngs showed his class and after an indifferent start redeemed himself with a typical sniping opportunist try, being matched in kind by his scrum half colleague James Grindal on the stroke of full time.
The defensive redoubt that has again been the Warriors' main survival armament prevailed for large portions of the game and to my mind due in no small part to the game being peppered with seemingly random penalties, just how can so many penalties from both sides fail to generate a Yellow Card? Warriors made some convincing sorties but lacked the ability, borne out of a lack of confidence, to make the final telling pass. Eventually they ran out of puff and Tigers' ended winners by a long chalk. It will be noted however that two of the Tigers' tries came from sparks of individual skill and vision from first phase ball rather than from a team construct.
The Tigers line out worked well, Jeff Parling joining with Croft and Ben Kay and proving what a superb signing he's been but generally for significant periods the pack was inexplicably out of sorts as were the returning international contingent with Dan Cole taking a long time to get the juices flowing.
This often sloppy performance nevertheless generated a substantial victory but whether the lack of a try bonus point will become a factor in holding off the hitherto free scoring Saints to achieve top spot remains to be seen, with Tigers' nemesis from High Wycombe finding some late season form, only being denied a win at Franklins Gardens by the officials managing to miss first a forward pass and then a blatant block on Varndell who was en route to tackle the eventual scorer.
The Tigers' centres have been an enduring concern for me this season other than when Lote appeared there in his final game. Mauger has made so few appearances that at times I wonder if his presence is just a figment of my imagination. There has been no consistency of selection or performance in this area and so the creative engine room has stalled too many times. Twelvetrees finally got a run out on Saturday and some good form from this bright young prospect teamed with Tony Allen, who has surpassed my expectations in a Tigers' shirt, will be very welcome in the closing stages of this year's Premiership. I just hope that these two can stay fit and form an enduring partnership with perhaps a fit again Dan Hipkiss at last providing an option, although I have to admit I like the Allen/Twelvetrees combo to start as they are more likely to run at space than seek out contact as does Hipkiss, sure he has power and sure he makes a good target but he is also too predictable these days and he needs to improve his work off the ball .
It may have been lack of familiarity, maybe match rustiness after an extended layoff during which the Tigers' players were clearly not doing much skill work, I don't know, but whatever the answer to their lacklustre start on Saturday last they'll need to get a grip before they meet a resurgent Bath outfit on Saturday, who will present a much sterner test than Tigers faced last week when they got drawn into what for an hour looked for all the World like two teams engaged in a relegation dogfight rather than a top versus bottom clash.
Bath, who with Quins, had the most unsatisfactory of closed seasons clearly suffered from low morale in the early months of the season, combining with the absence of the estimable Butch James for the first half of the current term, to see this old club once more flirting with the bottom part of the table.
However things have, since James' return, turned around dramatically and they find themselves as the form team of 2010. They managed another good win against Quins and confidence must remain high down at the Rec., but again given their aspirations to make the HEC next term I wonder if they too will rue the loss of the try bonus.
I have great admiration for Steve Meehan that against the odds and some very harsh, and to my mind, unfair criticism, he pulled his charges through the troubled period to their present resurgence.
When Butch James is in play with his compatriot Micheal Claassens, who have 43 Springbok caps between them, they look the high class side they are, with the South African axis invaluable to the collegiate good.
James is the arch strategist as he seemingly drifts around just behind the play weighing the options and once with the ball in hand he looks to be innocuously wandering across the field, for all the World seeming to be pondering what his post match meal will be that evening and then suddenly he spots an opportunity and all hell breaks loose as he brings his support runners into play and Bath go into that devastating offloading game with James keeping the attack in shape, probing and prompting like an Egyptian general urging his acolytes ever onward.
Ben Youngs and Toby Flood are a great combination at half back for Tigers with Flood standing really flat and providing a perfect foil for the dynamic youngster but the centres must come on to Flood so that the England incumbent is not left floundering and forced to either kick the ball away, attempt a fruitless line break or send a Hail Mary pass out to his inside centre who seems so far away as to be ensconced in the edifice to hubris known as the Caterpillar Stand, which gives the opposition defence ample time to amble up, be it in blitz or drift format, contact is taken and then follows the shambles, ball is slow, the lottery begins and the referee does his chest exercises, mimics a high board diver or curls his arms to his chest as if in the midst of a cardiac arrest.
On Saturday I expect Kiwi convert Shontayne Hape to again be paired with Olly Barkley who made his first start against Quins following his return from an ill starred sojourn up the road to Kingsholm where he felt sure the grass was greener and lusher, well it may have been both those things but not to his taste so he's back where he belongs – like Lewis Moody Barkley is a one club man and I hope for Lewis's sake that the comparison stops there.
Barkley not only brings great tactical, running and handling skills but at last Bath have someone who is often a consistent goal kicker.
Hape is a good line breaker but although he has a devastating step it tends to be one sided and thus predictable, the unknown quantity element of this aggressive player has largely passed however
with Barkley and particularly James constructing an attacking platform I think we may see him put into space and creating problems behind the Tigers' flat drift especially if the home side lose concentration and come out of the line creating a dogleg for Hape to go though.
I would like to see Twelvetrees and Allen start for Tigers, they both bring so much more to the game than the bosh it up merchants, both have pace, good hands and tactical awareness but will have their work cut out against the Bath three- quarters. Tigers must be able to keep the ball alive and away from the mayhem of the breakdown as much as possible.
The Bath back three of Abendanon, , Banahan and especially the superb Joe Maddock will not need to be provided with the sort of aimless kicking fodder we saw from Tigers against Worcester or Northampton for that matter as they will run it back with interest .
Banahan, like Alex Tuilagi is now closely policed by any opposition as his initial surprising threat is also now well recognised however unlike Tuilagi he doesn't go to ground with quite such alacrity as does the Samoan powerhouse these days. I would love to see the Alex of old staying on his feet and offloading with handling skills as well as the power play.
I do have concerns that the consistently splendid Scott Hamilton will see the ball popped behind him forcing him to turn and that he, likeTuilagi, will struggle defensively with the nimbler and speedier Abendanon and especially Maddock, who had a positive drought of scoring opportunities until February but with Bath once again producing quick ball to him normal service looks to have been resumed he slotting five Premiership tries in 2010, with braces against both London Irish and Worcester. Maddock can also be read, although knowing what the 5'8" Kiwi is going to do is one thing, stopping him doing it is an entirely different matter, he being as elusive as politicians trying to explain their expenses.
I think that both Alex and Scott will need show tremendous intelligence in their defensive positioning if this threat is not realised by the Bath back three with Hape in close support.
I hope against hope that the injury ravaged season of Geordan Murphy is behind him for as with James at Bath Tigers look a different side when the Irish magician is on the field and it's hard to imagine a more complete fullback. Tigers will need his creativity and defensive surety under the high balls that Abendanon, Barkley and James will rain down and I believe that there will be opportunities for him in the 10/12 and 12/13 channels where lack of game time together may mean that there is a defensive fault line between James, Barkley and Hape.
It's a finely judged contest and will turn on which back line gets continuity, quick ball and holds its discipline.
Which neatly brings me to the pack.
Lee Mears has benefitted Bath by being out of the England starters. This Graf Spee of a player has pace and great handling skills which were much in evidence on Saturday when he released the dreadnought that is Duncan Bell to run in a great try. These two were joined by David Flatman who, in my view, had it not been for his horrendous injury record, would have been a fixture in the front row for England, he's a great scrummagers and the contest with the Tigers' front row, which I hope will see Ayerza and Castro linking with George Chuter, as Mefin was somewhat off his game down at Sixways, will, as usual, be pivotal. I was interested to see in the last Italian match of the Six Nations that Mallett employed the same move, straight from the Tigers' play book, that saw the Italian star
release Tony Allen to make Alex's try against Irish a few weeks earlier and of course as we know Castro recently ran a full 60 metres to score a try of his own – well that'll be his story I guess!
The second row pairing of Hooper and ex Tiger, Peter Short for Bath are a good steady combination and also carry well but with Croft and Parling in the lineout I think that there will be some benefit accruing to the home side and both Croft and Parling have the greater dynamism around the park.
Julian Salvi, who returns to Brumbies at the end of the season, is a player who has caught my eye, I like his abrasive style and when he is teamed with another Springbok, the excellent ten time capped Luke Watson and the evergreen Beattie, who is closing in on 150 Premiership appearances, the Bath back row looks a formidable unit – good on the ground and dynamic in open play.
Bath bound Moody will have a great competition with Salvi on the ground and I hope that he will feel inspired to show the Bath faithful what they have in store next season.
If partnered with Croft and Crane then I see some good yardage being made by the Tigers' trio however I wish the offloading Jordan Crane, who was such a force in the 2008 Saxons squad in the Chrurchill Cup, would reappear. There can be no questioning his commitment to take the ball up but how I wish he'd not endlessly take the ball to ground and that he'd instead get it away to his support players, Moody will not be far away from the action and he and Tom Croft, given some better spacial awareness from the #8, will have a perfect opportunity to emulate and surpass the dynamism we shall doubtless see from the Bath flankers.
As usual much will depend on how the referee controls the scrum as well as the breakdown and as I write this I don't know who will be in charge next Saturday but depressingly it's likely to be a lottery – again!
On balance though if both packs are at their best and there's competence in the officiating Tigers should prevail narrowly in these areas.
So the outcome?
Well I think at their joint best the packs will be close, with the caveat on officiating, but I just sense that aside from Mears there may be more dynamism in the Tigers' front five, even if the excellent Wilson returns. The back row should be similarly close but here I see Croft as the overall deciding factor between the two trios.
That said it will then be down to the backs. I see Ben Youngs giving Claassens a bit of a run around and that may defuse the potent threat of Butch James who, like most Fly-halves, naturally looks nothing like as happy when on the back foot and that's where the pack and Youngs must keep him. If they do then I see a Tigers victory however if James gets onto the front foot then I see Barkley and Hape having the edge in the mid field unless the Tigers' centres can get with and properly support Flood who, to get some momentum, will stand flat pretty much regardless.
The return of Geordan is also crucial as his talent and ability to open up opposition midfields is badly needed and if he's there then I see a Tigers' victory and after another week off they can make the journey up to Kingston Park for their last away match of the season in good heart as they can't afford to lose up on that unhappy, windswept outpost and will need to be ready to entertain struggling Quins and, after yet another week off, the newly invigorated seven try Sarries at Welford Road to finish top of the league, which still matters to me at least.
It's in the balance as usual with Bath. If Geordan plays then Tigers by ten, if he doesn't then it could be too close to call with a single score separating the sides and Flood and Barkley deciding the eventual outcome.
pqs: qs: