Great Sporting Battles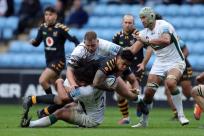 By Griff
October 25 2019
We're back to the proper rugby - the Gallagher Premiership restarted this week after the warm-up of the Premiership Cup fizzled to the end of it's pool stages. There are no easy games in the GP, London Irish had a trip to the Ricoh to visit Wasps to open their account. In previous years this would be a nailed-on loss but with the RWC and Wasps' off-field issues they are a reduced force from their glory days. While no-one expected a win there was the possibility we might pick-up a bonus point or two.
I wasn't expecting to see the game, having just got back from a fairly major holiday I was too jet-lagged and full of cold to think about planning a trip to Coventry and I wasn't even sure I was free on Sunday afternoon but I found myself at a loose end so I could watch it on TV... The problem is I won't have BT Sport in my house so I had to go to the pub, shame.
My local hostelry is actually Tom Kerridge's third property in Marlow - The Butcher's Tap. It's a bit of an odd concept, it's a puib with a butchers shop in it (or a butchers shop with a bar) and I can highly recommend both parts. The pub is lively and has 3 TVs while the butchers sells high-end meat that is genuinely lovely, I recommend the place. It's not quite so weird on a Sunday as the butchers is shut.
I arrived and the place was fairly empty but none of the TVs was showing the rugby so I inquired and got them to put it on. Since one of the other regulars was at the back of the pub waiting for the Liverpool/Man United game they stuck it on the front two screens and I settled down with my first pint of Rebellion to watch. There was no commentary - I could've asked for it but I didn't see it being a big issue since I didn't really care to listen to Ugo and pals slag us off.
The game started reasonably brightly, Irish were playing to the same level as Wasps and at least keeping-up if not, to my green-tinted eyes. actually getting the upper-hand. There were a few turn-overs but they went both ways and, in-keeping with my view of our slight superiority, Irish were awarded the first penalty of the game. This was my first chance to see Passy J in action and, whatever has been said about the relative merits of his signing, I'd been assured that at least his kicking would be an asset to the team... To say he missed it would be the master of understatement, I'm not sure it would've made it through a third set of posts next to the actual ones. My previous optimism given the display so far took a massive plummet into pessimism.
The first score came shortly afterwards for the home side during a so far rare visit into Irish's half and the Exiles killing quick ball a bit enthusiastically. Lima Sopoaga took it on himself to show Mr Jackson how it should be done and I got quite worried - I've watched Irish enough time now to recognize when the rub-of-the-green isn't going our way.
I was, thankfully, entirely wrong. I expected Wasps to simply cruise from there with Irish capitulating to a bitter defeat and what I saw was a team in green playing with heart and talent taking-on a side with genuine problems. A fine pass from Paddy Jackson set Premiership debutant Ollie Haskell-Collins on a blistering run down the left wing. The winger was hauled-down 7m short of the line but had support from a group of forwards who secured and drove the ball forward. A few failed attempts later and Blair Cowan drove the ball over the goal-line and forced it down through some fierce defenders. Step forward Paddy J and show me it'll all be O.K... he missed the conversion.
Paddy's first successful kick came after a second Sopoaga penalty but it was marred by the men-in-black turning-over the subsequent restart and passing out wide to Zach Kibirige on the right wing who beautifully kept his legs up and in-field under a heavy tackle to score the hosts' first try. At least Sopoaga missed the difficult conversion but it meant we were 11 - 8 down.
Irish kept the pressure up and forced a longish penalty that Jackson easily slotted showing that his first couple of attempts were the outliers and that he was, indeed, a proper kicking fly-half. Phew, and the scores were level.
The away pressure continued and before long Irish were threatening the Wasps goal-line again, a training-ground move popped the ball off the top of a 5m line-out to Albert Tuisue who absolutely glided in to score a superb try, Paddy missed the conversion.
Wasps were not going to give-up though and a kick behind Ben Loader forced the winger to track back, to my mind he did well and was prevented from getting to his feet by two Wasps dropping onto him but referee JP Doyle disagreed. I also felt Jack Willis came straight off his feet when securing the turn-over. Much has been made in other reports about how well he played but for me he was off-feet more often than not but was never pulled-up for it. Whatever the legalities of the possession it was spun quickly out to Kibirige again on the right wing for an almost carbon-copy of their first try - this time without needing a TMO check. Sopoaga was now in with the Jackson game-plan and missed the conversion to draw the scores to 16 apiece.
Shortly before half time Irish managed a turn-over of their own and were denied an attacking opportnity by the home side. The resultant penalty kicked by Jackson put Irish 16 - 19 ahead at the break.
Irish started the second half in the same attacking spirit. After collecting the kick-off and attempting to batter through the Wasps defence the Exiles decided to spin the ball wide again. A beautifully-judged pass from Cowan to an in-space Haskell-Collins saw the young winger sprint unopposed for the entire home-half to dot down for a try on debut. Paddy decided to join the party this time securing a difficult conversion to give Irish a 10 point lead. This was extended to 13 points with a further penalty shortly after and now I started to wonder if we could actually pull-off a shock win.
It was at this point that the real sporting-battle began. The pub began to fill-up and it soon dawned on me that the Liverpool/Man United game might actually draw a bit of a crowd. The problem, caused by earlier circumstances, was that I was watching the TV in the front of the bar, where there are quite a few seats and there were now quite a lot of people who'd like to sit and watch the football. I was asked if I was still watching "this" which I affirmed to much grumbling. I then continued to watch while an ever-growing group of people stood behind me craning their necks to see the other two screens...
The final half an hour showed that Wasps aren't easy to turn-over at home. The hosts had most of the posession and much of it was in Irish's half, only a solid defence kept them at bay. The pressure was, however, relentless and it seemed that it was only a matter-of-time before Wasps scored. Kibirige looked to have scored his hat-trick only to be denied by the TMO when it became clear that Tom Parton at full-back had just managed to get the slippery winger's foot into touch in a last-gasp tackle. Still they came, and still Irish defended, an over-zealous Ruan Botha was sent for a 10 minute sit-down when the penalty count began to climb and with the extra man Wasps managed to break the deadlock with Dan Robson finding himself at the back of a ruck under the posts with no green shirts in-front of him. The conversion brought the hosts within 6.
Wasps weren't done either, wave after wave of attacking play tested the Irish defence to the limits. With 8 minutes to play another penalty allowed Sopoaga's replacement Jacob Umaga to get on the score-sheet. Many Waspies are questioning if this should've gone to the corner and it's understandable but at the time it seemed like a good choice, in hindsight maybe not but it got them within 3 points and the momentum was all Wasps.
The final minutes were more of the same with incredible pressure from Wasps, incredible defence from Irish and incredible pressure on me to foxtrot oscar so that people could watch the footie. I did tell them that I was willing the clock down as much as I could but the humour was lost on them. With 45 seconds on the clock Wasps knocked-on but Irish cocked-up the scrum leaving a last-gasp effort for the hosts. In a stroke of luck Irish pressure forced another fumble and the ball popped over the Irish goal-line, Paddy Jackson gratefully touched the ball down to end the game.
Wasps 26 - 29 Irish.
I exited, jubilant, releived and thankful to both staff and punters for (at least grudgingly) letting watch the end of a thriller. I gather the football was a bit of a snooze-fest...
pqs: qs: