"Fasten your seatbelts, itís going to be a bumpy ride"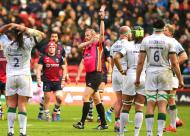 By RuckingGood
December 5 2019
After arriving at Ashton Gate I decided to check on the odds for the game and see what the great pundits had in store for us this week. Sure enough, Bristol were giving 13 points to us and an Exiles win was paying 5-1 with a draw at 20-1. After a very strange game against the French, there was something in my water saying that we would be up for this and the chaps at betting shops were in for a rough ride.
The team has been exuding confidence for a few weeks now and did not look frazzled during the warm up. I suppose that no one, outside of our own eternal optimists, really gave us a real chance of a boil over. The Bears fans, whilst delightful, were radiating a sense of smugness that was rightly deserved considering their start to the season and with the friendly banter over, Mr Barnes got the game underway.
For the first 10 mins it was a bruising encounter, with Irish resolute in defense and less assured in attack. Both sides kicking was somewhat aimless but the line held with some great hits from the usual suspects, Cowan, Botha, Hoskins and Tuisue. A moment of magic from Piutau lit the game up when he managed to break a number of tackles and grubered the ball through but great coverage saw the threat nullified. The resulting scrum held firm and the threat was snuffed out. It took over 25 minutes for the first points of the game to be scored, when Bears the fly-half knocked over a penalty from in front of the posts, making up for a previous miss. It needs to be noted that we are leading the stats for penalties conceded which, on another day, could have seen us suffer a far more serious fate.
Then, somewhat against the run of play, some wizardry by Hepetema and Rona put Meehan away for the first try of the game. This dampened the Bear's crowd for a while and more stalwart defense took us towards half time with a 7-3 score line in our favour. Then Barnes blew the whistle and stopped the game one notice from the TMO. An illegal clean out from Hoskins! On review he led with the shoulder at the breakdown but did it hit Vui's head.. I don't think so but you cannot give the ref that option and bugger me with a fish fork, the Exiles will play the second half with 14.
It was at this point I checked the odds again.. LI win now 10/1 and the draw easing out to 22/1 (and still I resisted the lure of wasting my money) but also checked the Craic. I must admit that I was a tad shocked at the negativity and in the words of the immortal Private Frazer from Dad's Army "were doomed" along with somewhat harsh comments regarding one of our wingers being a stout fellow. Ok he had not set the world on fire and was about as comfortable under a high ball as I am with a ferret in my trouser pocket but try to be nice people.
Spoiler Alert.. he dropped another sitter in the second half but then scored.. 2 from 2.. not bad for the chap who apparently ate all the pies.
Anyway, with 14 taking the field and the Bear's fans in full voice the game was on and what a bizarre half it was. Initial stifling defense suddenly cut open and left floundering, to allow the most annoying chap on the field, Hughes, to score. 8-7 and if you have never seen a dancing bear (supporters), be at Ashton Gate next season. John Travolta would have been in stitches.
Smiler slots another penalty to take back the lead (this chap is a metronome and playing the best rugby I have seen form him for many a year) but a few suspect tackles from the White Wall allowed Bristol to take back the lead and luckily they did not have Smiler kicking (left at least 10 points on the field thanks to their wayward boot).
Loveyjoy is on the floor now, looking nonchalant and when he comes off, for what was called a blood replacement leading to uncontested scrums, there was grumbling form the local grizzly bears that Bloodgate was back. I did manage to point out that a) we had if not dominance then parity at the scrum all night and b) the Zimbabwean Sports star of the Year 2017 takes a dive for no man – it turns out that he was bleeding from a little cut.. caused by his thumb bone breaking the skin after a very nasty fracture – get well soon son.
Is this the time where the Irish of old say "thanks but we will have a nap now"? NO.. as the pie man himself redeems his inability to catch a high ball and runs 50.. nay 60 meters, outpacing Morahan to score with the conversion landed. Irish back in front but for only a short time as MOM Thacker bursts through some "tired" Irish defense to set up a chap that should have been tackled three times to score.
Bristol back in charge and yet again you get that horrible feeling that its going to be another "brave loss".. where is my faith as scrum dominance (it is uncontested by now – just kidding) leaves a three on two which is duly executed by a diving Parton.
Wow we can win this.. bears supporters deadly silent and .. no.. that bleeding Thacker again finds space outside and scores and with the conversion the lead has changed eight times in what is a fantastic half of rugby.
But wait.. there's more and I am not talking a set of steak knives.. Barnes blows for a soft penalty in the 79th minute and up strolls Smiler. With the poise of a prima ballerina completing a fouette, he slots over the penalty from what seems like 140m (it was 35 but at the time he was in the car park to take it).
Silence from the pandas now and for the 10th time tonight the Exile fans roar. Kick off, hit up, kick out and there you have it.. a draw but this was not like kissing your sister. It was a marvelous hard fought draw and in the words of Dec "it was probably one of the better draws I've been involved in".
Could this be the time when Irish come of age or is it another false dawn..
I believe.
pqs: qs: