Back after all this time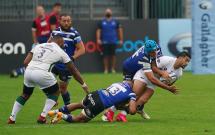 By Griff
August 17 2020
Premiership Rugby restarted after it's Covid-enforced break with Irish travelling to the Recreation Ground to battle Bath behind closed doors. It's an odd restart as a supporter, we can't get into the matches. You can, of course pay BT for the privilege - the good news is that season ticket holders can (we're told) get a pass to see the home games on BT. How well that will work be seen (we're live on terrestrial - Channel 5 - next week so no need for a pass for that one), as it was to see this you needed one of a BT subscription, a mate with a Bath ST or a pub you trust that was showing it.
Your "reporter" had none of these - I won't pay BT for anything, I'm not entirely comfortable having to rely on them for the home games. I have no mates with Bath season tickets (I mean, would they really be a "mate"? [only joking]) and call me a old scaredy-cat if you like but despite a deep-rooted and long-standing love of the great institutuion of the British pub I don't plan to go to one any time soon. Plus my favoured local (where I could possibly have persuaded them to switch one of the tellies to BT Sport Red Button) isn't open yet.
So, in case you hadn't picked-up on the sub-text, I haven't seen the game. If anyone has and wishes to send me something I'll be more than happy to publish it to replace this nonsense, unfortunately SportNetwork in their infinite wisdom chose to re-enable the story-every-two-weeks limit with no advance warning so I have to publish "something" and I have no other way of polling the Craic denizens to ask for someone else to do it.
I gather the match was reasonably disappointing - I really didn't know what to expect. With the break we've got a lot of injured players back but so has everybody else. We seemed to field a fairly weak pack and it sounded like we got out-muscled up-front which isn't a massive surprise.
It's a genuinely odd situation. There was a laughable otuside-chance Irish making the top four going into this but I think the result (34 - 17 to Bath, incidentally) shows that to be the height of optimism. So, with Saracens' guaranteed relegation, we're pretty much just playing the rest of the season for kicks.
When we wen't down (both times) I really hoped the coaching team would use it as a chance to re-group and get some real structure into the team. Something to build on. Sadly both times we seemed to simply want to win, which at least we did but it didn't improve our chances in the future. This, it seems to me, is an even better chance, we can try some combinations and create a team with some moves with no danager of dropping into the abyss - we won't get that very often unless the stories of impending ring-fencing are true. If they are then this game doesn't make it look like we're going to be much fun to watch.
So, hopefully, it's not all gloom-and-doom and we were simply ring-rusty after such a long gap. Next week we return to play a "home" game at The Stoop - Quins can at least be sure we won't get a bigger crowd than them. We're playing Northampton Saints who were handed a spanking at home by Wasps so I would imagine they'll be keen to get their campaign for top four back-on-track. Whatever happens we'll need a match reporter and as it's on terrestrial televison that can be pretty much anybody. Volunteer please!
pqs: qs: