Toulouse v London Irish October 2006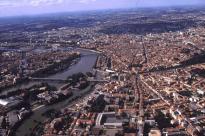 By Nick4219
September 4 2020
In a bid to keep the site updated we have a story from Nick to remind us all of happier, more normal times when we got to watch rugby live and sample the delights of away travel to exotic climes. Many thanks to Nick for answering the call for stories, why not follow his lead?
London Irish has always been a club in my opinion, that was more than just about the rugby. In recent times, performances on the field have left many feeling dismayed, however, I genuinely feel that we could be about to turn the corner and get back to winning ways. Anyway, here's a short tour story when Irish were just on the verge of success.

Rewind a few years ago now to 2006, Irish were a rugby club on the up lead by Brian Smith and with a host of players that are now described as "Club Legends".

It was round 2 of the Heineken Cup and an away fixture to the then giants of French Rugby, Toulouse. Spoiler alert, they went on to win it (I think).

Irish had a number of injuries with Riki Flutey ruled out after the captains run. Anyway, that's enough rugby for now, this was one of my first proper away trips as an Irish supporter.

Me and my old man made our way to Gatwick for an early flight and in the finest traditions got straight on the beers with breakfast. I'm sure we saw a few familiar faces also travelling out to the game.

We landed in France and made it to an Ibis hotel somewhere in Toulouse which had now been taken over by a large travelling contingent of Irish fans. Back then, it was nearly always the same old faces and we really did travel well to away games. The atmosphere was always very welcoming which is why I love this club. We continued to meet and greet old and new friends all the while we were still sipping our beers. Then the turning point for me happened when someone discovered that a pichet of wine was cheap as chips so a lot of us began to drink the wine. The old adage of "beer then wine, you'll be fine" was uttered in reassurance.

As the afternoon went on, me and the old fella headed off to find some food and settled on a restaurant in the big town square and ordered ourselves two Steak Frites. The steaks came out alive so were hastily sent back for some more fire in them, much to the disgust of our French waiter. We coiffed more wine.

After dinner we made it back to the hotel bar which was now packed with rugby fans and it was a non stop singalong to which eventually the hotel staff demanded we be silenced and they temporarily refused to serve any alcohol. Cue the whispered verses of The Fields of Athenry which probably seemed a lot quieter than it actually was in our drunken states, however the staff realised they were fighting a losing battle with a good natured bunch and resumed the flow of alcohol! At some point in the evening, the old man did the sensible thing and went up to bed. His age and experience clearly telling him it was time for bed, me however with the foolishness of youth, I thought it would be a good idea to stick around in the bar as I was still a bit thirsty.

That's about all I can remember from that evening.

In the morning I awoke with a hangover strong enough it would have hospitalised George Best. I also had the strange sight of my Dad on his hands and knees scrubbing at the carpet floor. He went on to tell me that I was responsible for his cleaning efforts as I had returned to the room and proceeded to be violently sick on the carpet and part of the bed.

We didn't fancy paying the cleaning fees that the hotel had for such an occasion so we hatched a devious plan that included
washing the offending items in the shower and then hanging them out of the window to dry.

After pulling off the deception it was time to head down to breakfast. It was a typical continental affair and I helped myself to the abundant coffee on offer. A number of fellow Irish supporters came over to ask how I was after the previous evening to which I lied and said I had "a bit of a sore head" from all the drinking. It was here that I was informed that it wasn't just the drink responsible for that. Apparently I had fallen backwards in the bar and knocked myself out as I struck one of the concrete pillars that decorated the lobby area.

I went for a walk around Toulouse to try and clear the head a little bit and then it was time to head to the Stade Ernest Wallon for the pre match rituals. On arrival at the ground we bumped in to more familiar faces. One such character was famous for wearing his baggy pants and a beret greeted us. He was also hugged by a few French fans, although this turned out to be a rather crude attempt to steal his match tickets, however, the French pick pocketing gang didn't count on the eagle eyes of numerous Irish fans who saw exactly what they did and managed to catch them and bring them to the attention of the Gendarmerie. The tickets were reunited with the rightful owner and we all made it in to the ground.

I was still too delicate to drink so stuck to drinking water for the afternoon. The atmosphere at the game was great with the Toulouse fans doing there chanting and clapping and drumming in a way you didn't see anywhere, even better than the East stand drummers in full flow and and a full stadium. A very kind lady who was an Irish supporter and nurse was clearly concerned about my hangover/possible concussion so made sure I was okay.

The game kicked off and I think I'm correct in saying Delon Armitage grabbed a try very early on, but, from then on it was pretty much all Toulouse who had some excellent players at the time. Irish were further decimated by injuries at half time and it was nigh on impossible to see a comeback from 20-10 down at Halftime.

Toulouse put another 17 points on the board and Kieran Roche scored for Irish. By the end of the game I think we had Steffon Armitage in at centre and a whole host of other replacements playing out of position.

Final score 37-17.

It seemed a bit of a spanking, but, with the injuries we had and the sheer class that Toulouse had at the time, it was not to be sniffed at. Irish definitely learned from it and over the next few years we really did see some spectacular results and came within a whisker of winning the Premiership and almost making a Heineken Cup final.

We left the hotel having replaced the hand washed linens as if the carnage from Friday night had never happened and flew home with a sense of smugness of having stuck it to the man (well the Hotel anyway!)

There are a few characters from this tour that are no longer with us, and some that have just drifted away for one reason or another. I miss them and those days and I'm hoping it's not too much longer before Irish are mixing it up in Europe again and , maybe, next time in Toulouse I will do things a little bit differently........maybe!
pqs: qs: