Home draw with Aston Villa shows the state of things...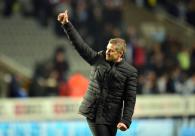 By Rogero
December 2 2019
The results this season, apart from the opening day trouncing of Chelsea, have been poor. Ole's record is looking worse than Jose's was when he was asked to leave last season. The youngsters performed ok in the narrow Europa League defeat last week but the club are heading for another poor season in the league and it is even more depressing when you see who is already 22 points ahead of United at the top of the table!
The fans are getting restless and frustrated, the players need to be motivated and galvanized into action. Is Ole the man for the job? He is a United legend, everybody likes him but can he deliver results?
pqs: qs: