what are you all doing without rugby - or going outside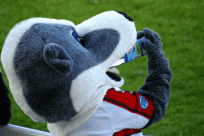 By Cider Drinker
April 2 2020
wondering what everyone is doing without the rugby and being in lockdown. Should have a vitual rugby match, as they are running the grand nationsl virtually this weekend, all bets placed going to charity. For me, working at Derriford, strangely empty buses and no visitors make the Hospital a very strange place to go each day. being classed as a key essential worker was a bit surprising, but I do have a lettter to say so ;) At the moment I am distancing myself from my 'other half' (the loud one), due to my job, my hearing is surprisingly recovering, so one bonus coming out of all this.
Wondering how everyone is out there, without our weekly(or fortnightly) catch up with each other. Also wondering if the pitch is looking good, or whether the lack of activity has the rabbits making their home there.
I see the premiership footballers are waiting to play behind closed doors, lot of money involved. for rugby I think that behind closed doors does no good, no revenue comming into clubs, and no atmosphere.
Hoping that Albion will start to sell next seasons tickets soon, not sure if it will be an everysoearly bird offer, but I for one wont be asking for a refund for the games I haven't seen this season.
let us know what you've been up to in the lock down.... and your opinion on Donny Knight deducted points... or anything to keep the site alive
keep safe out there, remember to stay at home unless you are a key worker, or going for essentials (no lava lamps)
pqs: qs: