Match Report - Reading 2:0 Sheffield United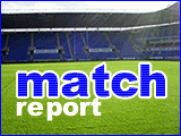 By Mark Sugar
October 27 2005
A brace from Dave Kitson gave Reading a 2:0 win over Sheffield United in the 3rd Round of the Carling Cup.The Royals are now in the hat for the 4th Round and the draw is made this Saturday afternoon.
MATCH REPORT

---

3rd Round, Carling Cup

Tuesday 25th October 2005,

Madejski Stadium, 20:00pm Kick-Off


Reading
2
Sheffield United
0

TEAM LINE-UP'S

---

Reading - Stack, Murty, Shorey , Sonko, Ingimarsson, Oster, Hunt (Little 85), Sidwell, Baradji, Kitson (Cox 78), Obinha

Subs not used; Hahnemann (GK), Gunnarsson, Doyle

Sheffield United - Barnes, Geary, Wright, Bromby, Francis (Horwood 82), Stephen Quinn, Tonge, Webber (Nix 81), Marrison (Law 58), Forte, Ross

Subs Not Used; Annerson, Short

Referee - Rob Styles

MATCH REVIEW


---

Steve Coppell's Reading are into the hat for the 4th Round draw of the Carling Cup after a combatable 2:0 victory over Championship leaders Sheffield United at the Madejski Stadium.

Sheffield United were probably the better of the 2 sides in the 1st half, but it was the Royals who took the lead on 54 minutes when Dave Kitson volleyed in a Nicky Shorey cross.

It was game over with 15 minutes to spare when a Stephen Hunt cross fell to Eric Obinha at the back post who headed back in for Dave Kitson to score to make it 2:0. It was the former Cambridge striker's 3rd goal in 2 games.

Full Time : Reading 2-0 Sheffield United

1871Royals Man Of The Match - Dave Kitson
Attendance - 11,607

WHAT THE MANAGERS SAID


---

Steve Coppell, Reading Manager

On the 2:0 win;

"I think we deserved it. It was always going to be difficult, there was lots of changes on both sides which makes it hard to catch a rhythm. With so many young lads coming in, they had high energy and their shape denied us space. We were a bit too complicated in the first half, but the first goal eased everyone and made it easier for us to play."

On the changes to the staring line-up he made;

"The boys who have come in have done well, everybody feels a part of things and we don't have anybody who isn't 100% supportive. Of course, everyone would love to be playing every week, but second best to that is being part of it."

On Dave Kitson's 2 goal performance;

"It was good delivery for both goals, and goalscorers thrive on hitting the back of the net, so with 3 in the last 2 games it's good to Kits back in the goals. At times tonight he looked a little sloppy, similar to Saturday, but at the end of 2 games he's scored 3 goals. He's got an awful lot more to come as well."

On the impressive performance of Eric Obinha;

"Eric occasionally amazes everyone with some of the things he does. He's a handful without sometimes being aesthetically pleasing."

On equalling the club's 17 game unbeaten record;

"I'd prefer it to be the last 17 games of the season! This season is all about where we want to end up, and as I've said many times you don't win anything in October."

Neil Warnock, Sheffield United Manager;

"I shook Steve Coppell's hand after the game and told him I want them to get through to the final. Then I found out Palace are through I want them to get each other in the final!

"Reading can beat anyone and I hope they get a draw at home that means they have to put out a full team.

"I told our lads to keep it to single figures! We wanted to win but I wasn't about to risk anyone important. The downside of the game is that we're out, but the upside is Reading are through."

On the 2 sides current league position;

"It's up to others to catch us. Everyone talks about it but Steve and I are happy to have the points already. We've got Cardiff and Luton coming up as well as Palace before the break, and that shows it's a tough league."


NEXT OPPONENTS

The Royals are back at the Madejski Stadium this Saturday when they face a huge match against Leeds United. It is definitely a game worth getting to and you can find out about ticket information by clicking the link below.
pqs: qs: