Meet the Family - Ex-RAF Shark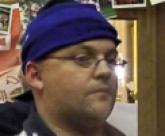 By Major Bloodnok
November 26 2008
Another brave soul steps forward and bares all for the Meet the Family spot. This time it's a foreigner from south of Watford - Ex-RAF Shark, who actually admits to living in Oxfordshire (well, someone has to). Ex-RAF is divides his spare time between propping up bars, following anyone who doesn't actually kick him, and trying to fit into small spaces. Read on...
Meet The Family
Ex-RAF Shark

Real Name

Paul

Location

Carterton, Oxfordshire

Occupation

Logistician for a company providing services to the Royal Air Force

Favourites

Movie(s)

Bridge Too Far, Downfall, Hot Fuzz, GhostTown....most comedies & war films.

TV Programme(s)

Any rugby on TV, QI, Mock The Week, My Name is Earl,
The Sopranos,The Shield, Spooks, Deadliest Catch..most military documentaries.

Book(s)

Military histories, Wilbur Smith, Sharp by Bernard Cornwell

Music

Dire Straits, Meat Loaf, AC/DC, Iron Maiden, Big Country, Simple Minds,
U2 (up to The Joshua Tree)....most rock but definitely not rap or r'n'b

Radio Station(s)

Radio 2 or Jack FM

Food(s)

Meat & spuds (not mashed) in various guises!!!

Drinks(s)

Real Ale, Guinness, Coffee, Water......not spirits though!!

Place(s) to visit

Las Vegas, Zakynthos, Alaska.......Best to avoid Iraq, Saudi Arabia,
Kuwait & Afghanistan though!!

Rugby-related

How long supporting Sale Sharks?

11 years

Best ever Sale Sharks game

Simple. Beating the Cheetahs at HQ.

Favourite Sale Sharks experience off pitch

For atmosphere, San Sebastian. Recently, the night in the Aussie bar after the Clermont match.

How did you start supporting Sale Sharks?

Lost a bet in Germany in 1997, so had to support Sale V Leicester in that thrilling Twickenham cup final!!!

Non-rugby

How do you relax?

Darts, going to the pub, reading, going on holiday & skiing.

Four people you'd invite to dinner and who would cook:

Jason Leonard, Phil Taylor, Kate Winslet, Ahmed the dead terrorist and a bloody good cook

Most likely to say?

Yes, please, I'd love another pint

Least likely to say?

Anything intelligable after a few of the above

Tell us something about you we don't know.

Made my RAF Lossiemouth debut against Aberdeen Wanderers ( Jason Whites old club) and we lost to a last minute penalty given for our hooker being offside...Oh..that was me!! Doh.
pqs: qs: