RICHES OR RUIN?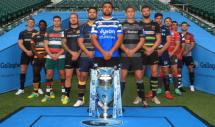 Premiership Rugby: valued
By Bath Supporter Jack
July 24 2019
Is Rugby following the route to riches already taken by English Football? Readers of more advanced years will recall some thirty years ago when in the English professional football world the only difference between a Division 1 Club (Premiership) and a Division 2 Club (Championship) was the greater scale of trading losses in the higher division. Yet today these clubs are making very large profits that will in all likelihood only increase over the next few years. So how did it happen?
The source of these revenues has of course been the genuine "Magic Money Tree" otherwise known as SKY TV. Some 25 years ago I had lunch with a SKY executive and I moaned about the fact that SKY was bidding up and capturing more and more sport events to broadcast exclusively. Being younger and even clearer in my views then, I told the SKY man that there was no way I would ever subscribe to SKY, which I thought was acting in a high-handed manner. He looked at me for a short time and then asked what sport I was interested in. Replying "Rugby Union" he then said "we will buy rugby so you will then have to become a SKY subscriber and we will then have you". I obviously denied this at the time………needless to say I now subscribe to SKY Sport and BT Sport!
Who can forget Michael Knighton in 1989 coming on to the pitch at Old Trafford dressed in Manchester United strip, doing "Keepie Uppies" (a technical football term) having agreed a deal to buy the biggest Club for £20m. Sadly for Mr Knighton and luckily for the Edwards family the deal never happened. A little later Americans started buying up Premiership Clubs and we thought they had taken leave of their senses! However in hindsight they knew that the television rights were misunderstood and were very undervalued from their own experience in the United States. They now own assets, the Clubs,that have become very valuable indeed.
Whilst football in England took over a hundred years to reach this point English Rugby Union has rushed headlong in less than 25 years to approach the same point of sustainability and then possibly value creation. The game went properly professional, after a period of "shamateurism", in 1996. The first few years, from memory were ones of excess, disorganisation and ironically an unprofessional approach. This period saw the demise of old traditional clubs like Richmond, London Scottish, Rugby and Orrell who were unable to compete for players and create sufficient revenue. Recently London Welsh has sadly disappeared as a professional club as they tried to compete at the highest level without sufficient sustainable resources.
Recently Mr Coochie Coo produced a very interesting paper on the current financial status of the twelve premiership clubs. His analysis showed that all but Exeter were loss-making. However more analysis shows that in all but one or two clubs the losses are manageable given support of the owners.
Now who has come along to turn the finances of professional rugby in England upside down?
CVC is a UK, Europe and Asia venture capital group which was spun out of Citicorp Venture Capital. Its most famous transaction was the purchase of 65% of Formula 1 and subsequent disposal of the asset to Liberty Media of the USA. Having made many billions of pounds of profits the management team at CVC instructed a team to review every sport in every country in Europe. They reported back that Rugby Union had many interesting characteristics, which have a lot in common with football in the 1980's and 1990's.
CVC has now agreed a deal to buy 27% of Premiership Rugby for some £230m. The club owners turned down a deal where they would have sold 51% but with a number of savvy business men owning the clubs, Tony Rowe, Nigel Wray and Bruce Craig being but three, the opportunity was never going to be totally under-priced! On hearing of the offer apparently Tony Rowe of Exeter was incredulous as in common with many people, myself included, he thought rugby was worthless!
The value and the returns for CVC are predicated on achieving an auction for the media rights when the contract ends with BT Sport in 2021. Other possible acquirers include Amazon, Apple and Netflix.
CVC has now tabled offers for a minority shareholding in the Guinness PRO14 for a sum believed to be some £120m and a minority holding in the 6 Nations for £500m.
The sums involved are very large but by the same token CVC knows very well how to make a return on its investment. The concerns for all of us as supporters of rugby and in particular Bath Rugby, is what changes will CVC push through in order to achieve the necessary returns. Comments from people involved in Formula1 are less than complimentary about CVC's approach and involvement,
"There was pursuit of profit at every possible level but with apparently little interest in making the experience better or more popular. It was a distasteful, cynical process that left F1 tarnished."
It is clear that the influx of new funds will, if directed properly, make a major positive influence on the professional game. The only concern is what price has to be paid to achieve this?
pqs: qs: