Mexican GP: Mixed conditions for ROKiT Williams in FP3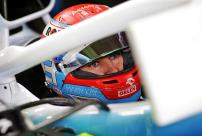 By Andrew Hooper
October 26 2019
The final practice session for the 2019 Mexican GP would see the ROKiT Williams team fnish in their usual positions been slowest of the cars that ran. George Russell would finish again ahead of team-mate Robert Kubica. The session would start with a damp track that would see very limited running and it would not be until very late in the session that both Williams drivers would come out for what would be long runs using the soft tyre.
ROKiT Williams Mexican GP Saturday Practice
Team Summary:
The final practice session would see the track damp after rain having fallen earlier on in the day. With the intermediate tyre been used it would be Albon who was quickest with a 1m:31.539. He would improve with a 1m:28.975 but Verstappen would go ahead with a 1m:28.711. ten minutes into the session and only two drivers had set times. Both Mercedes cars would set times with Bottas going quickest with a 1m:26.781 and Hamilton third behind Albon who was now second. Hamilton would improve to be quickest with a time of 1m:26.562 while Albon had moved into second and Bottas now third. Verstappen would also improve with a 1m:26.118 as the track conditions improved slightly.

Grosjean was upo to fifth followed by Raikkonen and Leclerc with only twenty seven minutes remaining. Magnussen would move ahead of Grosjean with the intermediate tyre still the preferred tyre. With fifteen minutes remaining Raikkonen would be the first driver to come out on the soft tyre. Bottas was running but would pit saying that he wanted to switch to the medium. Raikkonen would go quickest with a 1m:21.673 but Bottas would move ahead with a 1m:19.101. Sainz was now quickest but it was changing rapidly as we had Albon fastest with a 1m:17.370 from Vettel and Leclerc. Bottas was now second ahead of Vettel, Sainz and Leclerc.

Vettel and Leclerc would return to be second and third but Verstappen would change it all as he would go quickest with a 1m:16.903. Hamilton was now third but on the medium tyre. As the track improved drivers would improve as Sainz went fastest with a 1m:16.638. Neither Renault car would run due to issues. Bottas and Hamilton on soft tyre runs would move into first and second with Bottas ahead of Hamilton. But Vettel would go quicker with a 1m:16.172 only to see Leclerc quicker with a 1m:16.145. Both Williams drivers were on longer runs on their soft tyre as the session came to an end. They would finish down in 17th and 18th with the end of the session. The top ten would be Leclerc, Vettel, Bottas, Hamilton, Sainz, Verstappen, Gasly, Albon, Norris and Perez tenth.
Robert Kubica:
Robert would be first out for Williams running on the intermediate tyre given the wet track. He would pit after a single lap. Robert would finally return in what was now a very busy track. he wa son the soft tyre. Robert would set a 1m:23.968 to be behind his team-mate but a considerable margin behind. He would fins time but could only manage a 1m:22.002 to be 1.0s behind George. Robert would complete ten laps on the soft tyre pitting with the end of the session.
George Russell:
George would follow his team-mate out also on the intermediate tyre. George would say that the track would not be ready for slicks anytime soon. He would also pit after a single lap. With ten minutes remaining George would return running on the soft tyre. George would set a 1m:22.714 with eight minutes remaining. George would improve with a 1m:21.402 to be 2.5s ahead of Robert. He would continue to improve with a 1m:20.965 and after a ten lap run and with the end of the session he would pit.
| Pos | Driver | Car | Gap |
| --- | --- | --- | --- |
| 1 | Charles Leclerc | Ferrari | 1m16.145s |
| 2 | Sebastian Vettel | Ferrari | 0.027s |
| 3 | Valtteri Bottas | Mercedes | 0.114s |
| 4 | Lewis Hamilton | Mercedes | 0.236s |
| 5 | Carlos Sainz Jr. | McLaren-Renault | 0.493s |
| 6 | Max Verstappen | Red Bull-Honda | 0.758s |
| 7 | Pierre Gasly | Toro Rosso-Honda | 0.945s |
| 8 | Alexander Albon | Red Bull-Honda | 0.949s |
| 9 | Lando Norris | McLaren-Renault | 1.001s |
| 10 | Sergio Perez | Racing Point-Mercedes | 1.062s |
| 11 | Daniil Kvyat | Toro Rosso-Honda | 1.384s |
| 12 | Kimi Raikkonen | Alfa Romeo-Ferrari | 1.595s |
| 13 | Lance Stroll | Racing Point-Mercedes | 1.721s |
| 14 | Antonio Giovinazzi | Alfa Romeo-Ferrari | 1.736s |
| 15 | Kevin Magnussen | Haas-Ferrari | 1.987s |
| 16 | Romain Grosjean | Haas-Ferrari | 2.382s |
| 17 | George Russell | Williams-Mercedes | 4.820s |
| 18 | Robert Kubica | Williams-Mercedes | 5.857s |
| 19 | Nico Hulkenberg | Renault | - |
| 20 | Daniel Ricciardo | Renault | - |
pqs: qs:
Mexican GP: Mixed conditions for ROKiT Williams in FP3
Posted by: Williams F1 (IP Logged)
Date: 26/10/2019 17:28
What do you think? You can have your say by posting below.
If you do not already have an account
Click here to Register
.
Sorry, only registered users may post in this forum.