Wolves 0-0 Brighton and Hove Albion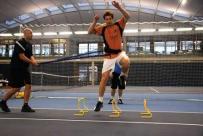 By Tom Bason
September 19 2015
Wolves held league leaders Brighton and Hove Albion to a 0-0 draw. A dull game was enlivened in the 22nd minutes as Emiliano Martínez saved Tomer Hemad's penalty, while Connor Coady's red card in the second half led to Wolves shutting the game down.
- Kenny Jackett selected a 4-4-2 formation for the visit of Brighton and Hove Albion. With Nouha Dicko on the long-term injury list, it was Benik Afobe who led the line, with Adam le Fondre playing in behind. In midfield, the exile of Kevin McDonald continued, although the Scot was on the substitutes bench, as David Edwards continued to be undroppable, alongside Connor Coady. Elsewhere, Dominic Iorfa returned to the team at right back, while the fledgling partnership between Ethan Ebanks-Landell and Kortney Hause continued, although both will be mindful of the return to fitness of Danny Batth, set to play for the Under 21s tomorrow.
- The first half was, for lack of a better word, boring. Neither team played with any real tempo, with or without the ball. Both teams were generally happy to let the other have the ball at the back; there was no real coordinated attempt to press as a team, just the odd players going by themselves. Similarly, when the ball was won back, both teams seemed to be generally happy to consolidate possession, and give the opposition time to settle back into position.
- The issue with us playing 4-4-2 is that it generally leaves space somewhere in midfield. Today, it came in front of the back-4, as Jamie Murphy was able to pick the ball up and turn and run at the defence. This led to the penalty chance; Tomer Hemad dropped off into space, forcing Kortney Hause to come out to face him. Neither Scott Golbourne nor Ethan Ebanks-Landell were alert enough to cover round the back, making it far too easy for Hemad to slip Murphy in behind. Golbourne eventually reacted, but just clattered into Murphy for a definite penalty. Fortunately, the penalty by Hemad was abysmal, weak and low to Martinez's left who was able to make a reasonably comfortable save, or at least as comfortable as any penalty save can be.
- The game livened up just after half time, when Connor Coady was sent off. From my position (and I've not seen a replay), it looked like he got the ball, but the referee's instant reaction suggested it was a studs up tackle. Anyway, a red card was given, and I was more interested in what happened straight after it; it seemed to take a long time for Kevin McDonald to be readied to come on. As soon as I saw the red card, I looked over to the bench to see who was being prepared, and there didn't seem to be a huge amount of action going on. On the pitch, Adam le Fondre appeared to drop back slightly deeper in the midfield, but for some reason, the players on the pitch seemed to go a bit crazy. Maybe they felt there had been an injustice, but the entire team seemed to start pressing and chasing the ball. Had Brighton had a bit more composure, I'm sure they could have easily gotten past our headless chicken forwards and midfield, and created something.
- McDonald came on for le Fondre, leaving us playing 4-4-1, with Afobe generally being pretty isolated as James Henry and Sheyi Ojo struggled to get forward to support him. One of the main problems we had the entire game was our fondness of hitting long balls to the forwards; even when we had both Afobe and le Fondre upfront, it was rarely successful, so I'm not sure why anyone thought it would be a good idea to play when Afobe was by himself. These long balls weren't balls into the channels to be chased, they were generally aimed at the strikers' heads – what was Afobe supposed to do with those by himself? As a result, the balls into him were very difficult for him to get under control, and as a result, he struggled to hold the ball up and bring others into play. Perhaps it was his frustration that led to him snatching horribly at the one chance he had, hitting his shot out for a throw in when well placed in the area
- But if we didn't do brilliantly with the ball when we were down to 10-men, we were a lot better without it. Or, maybe Brighton were just poor. I couldn't really tell what they were planning on doing, how they were planning on breaking us down. We seemed happy to let them have the ball down the flanks, or in front of the midfield, but as soon as the ball came into the middle, it was generally well dealt with, with Emiliano Martínez in particular taking a couple of crosses very well. The best chance Brighton had really was when Jamie Murphy's late run into the penalty area took him past both Edwards and McDonald, but he didn't get any real direction on the header.
- Apologies if this isn't my most detailed of reports, but I won't lie – I spent more of the game following what was happening in Glasgow in the tennis than I did watching the football in front of my face. The best of luck to Andy Murray and Dan Evans tomorrow in their singles matches; it would be amazing to see Britain through to the Davis Cup final.
pqs: qs:
Wolves 0-0 Brighton and Hove Albion
Posted by: Wolves (IP Logged)
Date: 19/09/2015 22:15
What do you think? You can have your say by posting below.
If you do not already have an account
Click here to Register
.
Edited 1 time(s). Last edit at 2015:09:23:09:31:54 by Badge32.
Sorry, only registered users may post in this forum.