Wolves 3-0 Huddersfield Town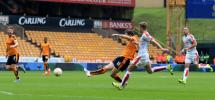 By Tom Bason
October 3 2015
Wolves won 3-0 for the second time in five days as Huddersfield Town were dispatched at Molineux. Kevin McDonald opened the scoring, before playing a big hand in both goals after half time, as a Benik Afobe brace wrapped up the points.
- Kenny Jackett made just one change to the team that beat Fulham during the week, with Tuesday's game changer Sheyi Ojo coming in for Nathan Byrne on the left wing. Both teams matched up with general 4-4-2 formations, inevitably leading to a degree of both teams cancelling one another out.
- Huddersfield started the game the better, getting the ball down well and using it through the midfield. Dean Whitehead was particularly impressive early on. He didn't do anything particularly special, but always offered the option to receive the ball, and then used it well, always looking to play the ball forward or to Huddersfield's danger men.
- On their danger men, there was a fascinating battle between left-winger Mustapha Carayol and right back Dominic Iorfa. Carayol is clearly used to using his pace to beat fullbacks with ease down the outside, but the first time he did this, Iorfa won the race and comfortably dealt with the threat. The next time Carayol got the ball, he chose to cut inside and unleashed a decent effort that was well saved by goalkeeper Emiliano Martínez. This seemed to worry the defence a little, and from then on, James Henry tended to double up on him. However, this had the knock on effect of freeing up left back Jason Davidson, who was able to get free from Henry on a number of occasions. This is the issue with matching up man to man with the opposition; if someone else needs to cover, it often means that gaps appear elsewhere on the pitch.
- While it was Huddersfield who started the better, Wolves slowly managed to get possession of the ball and start to play. It was the central midfield that the opening goal came, as Kevin McDonald played a one-two with James Henry in the middle of the pitch, before striding forward and bending a low effort into the corner of the goal. This is an element of McDonald's game that appears to have been lost a little. Remember when we first saw him? Bursting through midfield to win a last minute penalty against Crawley Town? He has the ability to do this, and go past opposition players. Perhaps he doesn't quite have the turn of pace to then get away from the defender, and so is opening himself up to being clattered from behind, but he has the ability to then make things happen.
- We started the second half with a slight change in shape, with Benik Afobe playing much deeper, more as an attacking midfielder. I'd felt he'd had a poor game in the first half, but playing that bit deeper seemed to invigorate him and he was able to get on the ball much more. But, arguably the most important change came from Huddersfield, who took off Carayol for Nakhi Wells, and moved Harry Bunn to the left wing. All of a sudden, Iorfa was freed up and we were able to get great joy down from the right hand side, with Iorfa creating chances for James Henry and Adam Le Fondre with crosses from the by-line.
- Our preference to attacking down the right hand side was stark, with Ojo struggling to get into the game on the left. He reminds a bit of early Bakary Sako, slowing the game down too much when he gets the ball. It's still early days for Ojo, but I wonder whether he's yet ready for a run in the first team, or whether he'll be better as an impact sub. Nathan Byrne replaced Ojo and did ok. He has quick feet, and positions himself well when we don't have the ball, but didn't offer enough of a wide option when we did have it. He had a tendency to give the ball, then drive inside. Then when the ball worked its way back out to the left to Scott Golbourne, Byrne wasn't offering a passing option.
- After scoring the opening goal, McDonald played a key role in both the other two. Firstly, he lofted a ball through to Adam Le Fondre running through the inside left channel. Le Fondre showed good awareness, and squared for Afobe to tap in when he could have shot. The second goal came after Le Fondre's substitution, and Afobe moving to a central striking position. McDonald played a long ball down the right hand channel for Afobe to chase, and he finished smartly.
- But, probably the major talking point was the decision to show Le Fondre a yellow card for diving after he appeared to be fouled by goalkeeper Jed Steer after he'd taken the ball around him. Now, normally I write these having not seen a replay, but on this occasion I have. My gut feeling is that Steer clipped Le Fondre, and the goalkeeper's reaction would seem to bare that out. But was the contact enough to make Le Fondre go down? Perhaps that doesn't matter in terms of the Laws of the Game, but in terms of the context of this situation, I think it matters a lot. Le Fondre had a gaping goal in front of him; he probably had a 99% chance of scoring had he stayed on his feet. The issue is, is that players are almost preprogramed to go down at the slightest contact now, no matter what the situation is. At that point, I think a guarantee of being 3-0 up against 11 men is preferable to having a penalty opportunity (where the chance of scoring is estimated at somewhere between 70-80%) against 10 men. In that situation, I don't want Le Fondre to go down, even if Steer catches him. Hell, even if Steer completely Schumachers Le Fondre, I want him to be so desperate to score that he gets up anyway and rolls the ball into the goal. This might be an old fashioned view, but I have long defended players who go down when they get clipped, as if they don't they are definitely not getting the free kick. But there's a time and a place for staying on your feet (or even getting yourself back up), and when you have a completely open goal from 12 yards, that is definitely it.
- Can Morgan put us up for sale every week please? Two wins from two since then, and while this won't be a popular view, as Batth and Hause develop their partnership the decision to sell Stearman is perhaps looking saner than it did a month or so ago. Certainly, if we had to lose one of the players that Fulham wanted, I'd have accepted Stearman going (admittedly, I thought he was massively overrated by Wolves fans last season. Dropped before Christmas, brilliant between New Year and Easter, then mistakes galore for the final run in) if it meant McDonald stayed and signed his new deal. McDonald wasn't at his best today, but it was a step in the right direction, with a key role being played in all three goals. If he settles back into the team now that he's got his new contract, there'll be better teams than Fulham sniffing around him next summer. I do think that McDonald plays better when paired with the ever consistent Jack Price - at no point over the last two years have I ever thought they're not out best central midfield partnership, and the middle of the park was possibly the only position I wasn't bothered about strengthening this season. With Dave Edwards and Connor Coady back to challenge for their positions, here's hoping Price and McDonald are given the chance to continue their partnership.
pqs: qs: