Birmingham City 0-2 Wolves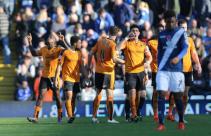 By Tom Bason
October 31 2015
For once, Wolves impressed when live on Sky, with a 2-0 win over West Midlands neighbours Birmingham City. David Edwards gave Wolves an early lead, yet it took a further 72 minutes for the points to be secure, with Sheyi Ojo wrapping up the game.
- Kenny Jackett made two changes to the side that lost to Middlesbrough last week, with new loan signing Mike Williamson replacing the injured Kortney Hause, and James Henry being picked on the winger merry-go-round ahead of Rajiv van La Parra. Again, David Edwards was in the position that suits him, deeper in midfield alongside Kevin McDonald and Conor Coady, as opposed to playing as a second striker like he has in the past.
- The game started how you'd expect a derby match to be played, scrappy and without anyone really being able to put their foot on the ball. Wolves took the lead after a Paul Robinson misjudged a bounce to let in Benik Afobe, with Tomasz Kuszczak smothering the effort and the rebound falling to Edwards who was able to roll the ball past the two defenders desperately trying to cover the open goal. From then on, though, Wolves gained a degree of control of the game, with Kevin McDonald having a fine game in the middle.
- This three man midfield is still lacking facial hair, but does have a nice balance about it. In Edwards and Coady, you have two players whose primary attributes are physical; Edwards has the lung capacity of a marathon runner, while Coady likes nothing more than to throw himself into tackles and generally close down all around the pitch. To an extent, they're almost McDonald's enforcers, giving the Scottish midfielder the protection needed to play. Today, McDonald got forward well, breaking beyond Birmingham's midfield and exchanging passes with Afobe in a way that I don't think we've particularly seen before. I do at times think that Afobe and McDonald are on a slightly different wavelength to the rest of the team, and if we can get McDonald into positions to play off Afobe, that is potentially a source of entertainment. Notably, a second half counter-attack ended with McDonald hitting a rising side footed effort that was brilliantly tipped over by Kuszczak.
- With us having the lead, we were generally happy to sit deep and force Birmingham to play through us. Williamson making his debut was impressive, although I didn't particularly think that Birmingham really tested him. There was one early moment when he got into a race with Clayton Donaldson, and I was slightly worried, but Williamson had more than enough pace to deal with it. With our defence sitting deep, much of the game was played ahead of Williamson and Danny Batth, which pretty much played into their strengths. Neither were ever isolated one on one, and both would have been delighted to spend the entire match heading and kicking away balls into the box. I thought that Gary Rowett missed a trick by not moving Demarai Gray through the middle a little earlier - I'm not sure I'd have fancied either Batth or Williamson to have dealt with him on the ground. But it's testament to the way we defended as a team that I'm not sure I can remember Emiliano Martínez having a shot to save.
- For the first time in a long time, we were happy to let the opposition have the ball, soak up the pressure and then spring on the counter. Key to this were the two wide men, who I thought were excellent. On the right, Henry worked hard up and down the flank, and had one of his good crossing days. On the left, and by that I mean he may have been out there once, Nathan Byrne gave his best performance in a Wolves shirt. He flitted in and out the game, but when he was in it, his pace and quick feet really caused Birmingham problems. One slight issue, he did drift inside a lot, meaning that we didn't really have any width on the left with Scott Golbourne not being overly attacking, although this may have just been because we were leading. We clearly haven't got our wing partnerships sorted yet; while Henry and Dominic Iorfa were two of our better players, and both look to attack, at times they make the same run, always looking for the overlap. If Henry is going to hug the touchline, I'd like to see Iorfa making runs inside him.
- One noticeable tactic that we've used over the last two games used Byrne's pace to good effect. When we have a corner, Byrne stays forward in the centre circle. When Martínez inevitably claims the corner, Byrne peels off down the channels and Martínez pings a ball, flat and accurate looking the run. This only works because of two Martínez attributes; firstly his distribution is good from in goal. When I first saw him against QPR I was worried that his kicking was going to be more Postma than Oakes, but he either had an untypically poor game that day, or he's worked on it a lot. Now his kicking, especially out of his hands is excellent, and invariably well directed. The second attribute that he has is ability to claim crosses. Now, he made a horrendous mistake two weeks ago against Derby County, but that doesn't seem to have affected him. Matt Murray was one of the best I've seen at commanding his area like this, almost seeming to have sonar to plot a route to the ball, and while Martínez isn't in this class, he is impressive.
- I feel it's easy to rewrite history at times, with anger at the club's transfer dealings over the summer. For me, Richard Stearman was massively overrated last season, yet his performances have almost taken on a mythical status. At the end of last season, I said that centre half was the first position I'd strengthen, with ideally a replacement for Stearman. And it's equally easy to forget that Carl Ikeme was somewhat controversially recalled to the team after Kuszczak had played well, and was arguably the form goalkeeper at the time. I've been impressed with him overall, and if Arsenal don't want Martínez, I'd happily sign him and make him our first and permanent choice in goal. Of course, if Wenger has no intention of letting him go permanently, then I guess it's a different question, but at the moment, I'm more than happy to see Martínez in the team.
- While Birmingham had plenty of possession in the second half, they never looked like threatening the goal, and in fact we always looked more like increasing our lead. McDonald had the afore mentioned effort, and Afobe rolled one wide when cutting inside. Afobe's shooting is something that worries me; as a forward, his shooting is easily the weakest part of his game. A chance he missed one on one with Kuszczak highlighted this (ok, he was offside, but neither he nor Kuszczak knew that at the time), and I never actually feel confident he's going to score when he has a chance. We were good on the counter attack though, looking to use the pace we had in the team, and especially down the flanks, and it was a counter that released Henry down the right that led to us finishing the game off, as Henry shot when he maybe should have crossed, resulting in a corner. Before today, we've basically have three corner tactics; clipped ball to Danny Batth at the far post which never works, passed corner to the penalty spot which works well but can only be used intermittently, and the short corner. Today, we changed slightly, with Williamson being the target for the corner, and looking more dangerous than Batth ever has. But the second goal came from a short corner, as substitute Sheyi Ojo was able to cut onto his left foot, and place a low shot beyond Kuszczak into the far post.
- After a nightmare couple of weeks, this was a back to basics performance, and it was much needed. Williamson did well (and to be honest, I think he might end up being an upgrade on Stearman), and Grant Holt won a couple of good headers, most notably for the James Henry chance. We need to make sure that we follow it up now with three points at Bristol City on Tuesday.
pqs: qs: