BREAKING: Mourinho sacked as Manchester United manager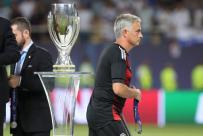 A high point...
By Chris
December 18 2018
Jose Mourinho has been sacked as manager of Manchester United, following a disappointing performance in a 3-1 defeat at bitter rivals Liverpool on Sunday.
The Red Devils fell a whopping 19 points behind league leaders Liverpool on the weekend, after being outplayed at Anfield.

Intense speculation has long surrounded the future of Mourinho, amid disappointing Premier League form and a long-running series of bizarre media interviews from the Portuguese coach.

Pressure seemed to have eased on the 55-year-old following United's recent Champions League progression, including a dramatic and famous win in Juventus, and a run of league wins against Watford, Burnley and Everton.

However, United have now won only one of five league games, and the manner of Sunday's defeat against Liverpool demonstrated a gulf in quality between the two North West rivals.

Jurgen Klopp's men notched up 36 shots, 13 corners and 65 per cent possession as they outclassed United, with Sadio Mane and Xherdan Shaqiri doing the clinical damage in front of goal. Forward Jesse Lingard seized on an Alisson goalkeeping blunder to give United a first-half leveller, but an away win never looked likely; the Red Devils instead losing a league game at Anfield for the first time since September 2013.

United have – perhaps surprisingly – announced that a caretaker boss will be appointed until the end of the season, "while the club conducts a thorough recruitment process for a new, full-time manager". Zinedine Zidane, Antonio Conte, ex-Red Laurent Blanc and Mauricio Pochettino are among those considered early front-runners for the vacancy.

Mourinho leaves the club after a roller-coaster two and a half years at the helm.

Highlights include a silverware double for 2016/2017 of the League Cup and Europa League, which followed a Community Shield win at Wembley the previous August - a very tenuous treble.

United also reached the 2018 FA Cup final, beaten by Mourinho's old club Chelsea, and finished sixth (2016/17) and runners-up (2017/18) in the league.

That runners-up slot in the top-flight last season was perhaps overshadowed by the dominance of cross-city rivals City, who won the league by 19 points; but it did mark United's highest league finish since Sir Alex Ferguson left the club as league champions in 2013.

Mourinho won more than 58 per cent of his games at United, a record which, for example, remains better than Klopp's at Liverpool, and eclipses both David Moyes and Louis van Gaal from their recent stints in the Old Trafford hot seat. However, Mourinho's failure to keep United in contention in the Premier League this season has ultimately cost him his job.

Equally, the ex-Porto chief often had a rocky relationship with supporters; with a string of strange media performances failing to endear him to many and leading to accusations of damaged player morale.

Fans briefly rallied around Mourinho amid reports of an imminent departure earlier this season, but the manner of Sunday's defeat at Anfield proved the final straw for many.

Mourinhio's tenure gave United fans some fond memories. The Europa League triumph meant United have - until the forthcoming launch of Uefa's new competition - now won every major tournament available to them; while the League Cup win was another welcome taste of success.

However, it has also been a two-and-a-half year period which has seen United spend big, but fail to close the gap with those achieving most at the top of the English game.

United fans could easily had stomached more had Mourinho made a more positive effort to build relationships with them but, at times, his comments, outbursts and manner seemed inconsistent with the conduct long-standing supporters wish to see at one of the world's most successful and famous sporting institutions.

Mourinho leaves after 144 games, and 84 wins. He watched his charges score 243 goals, and concede 117 - and Sunday's reversal on Merseyside was the 28th and final time Mourinho would taste defeat as United's man in the dugout.
pqs: qs: