Half Season Ticket Information 05/06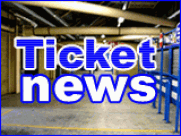 By Mark Sugar
October 19 2005
The club have released prices for a half season ticket for after the Christmas period.By having a season ticket,you'll gurantee yourself a seat for the run in to the end of the Championship season,priority for Cup and Away Games and the gurantee of a seat for the Premiership should we get promoted.
HALF SEASON TICKETS 05/06
Struggling what to think of a Christmas present? Well how about a half season ticket with the Royals?
Half Season Ticket information for next season have been announced with supporters able to purchase for the Leicester City game on the 28th December 2005 and onwards.
East and Lower West
Adult: £190
Over 65 & 16-21: £120
Under 16: £50
Under 12: £35
North
Adult: £165
Over 65 & 16-21: £100
Under 16: £50
Under 12: £35
Upper West
Adult: £200
Over 65 & 16-21: £145
Under 16: £60
Under 12: £40
By having a season ticket, you'll guarantee yourself seats for any potential cup games, and you'll also receive priority over Member Card Holders and the General public for away tickets. But probably, the most important reason is that should we get promoted this season, you'll be guaranteed a seat for Premiership football for next season.
Supporters can either call the Madejski Stadium Sales Centre on 0870 999 1871 or by popping into the Sales Centre (next to the club shop).
pqs: qs: