Cornish Pirates Legends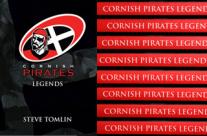 Cornish Pirates Legends
By ML
November 9 2015
Following a series of successful launch events Steve Tomlin's latest book "Cornish Pirates Legends" is now on general sale
Ex-player Steve Tomlin details the lives and playing careers of forty-six leading Pirates players and four senior coaches covering both the amateur and professional eras of the club
It is almost entirely based on a series of detailed interviews with the players themselves – or with their colleagues and families if they are no longer with us.
Many of those featured played at international level whilst others remained as heroes in their own backyard. It gives a fascinating and often hilarious insight into the lives, pressures, achievements and disappointments of rugby players of different generations and varying backgrounds.
True Legends are featured from Stack Stevens to Alan Paver, plus current favourites Gavin Cattle, Laurie McGlone, Rob Elloway, Chris Morgan and many more.
Coaches from Jim McKay to Chris Stirling are given equal treatment.
A True History Of Special Pirates One And All
A Perfect Xmas Gift
How To Get Your Copy
Cornish Pirates Legends is just £12-99 and makes an ideal Christmas Present
Available from The Cornish Pirates Offices, Monday to Friday 09:30/!2 Noon

By Post £17.00 inc.P&P
Please make cheques payable to Cornish Pirates
Send To:
Zoe Leray
The Cornish Pirates
Westholme, Alexandra Road
Penzance, Cornwall, TR18 4LY
For any queries please contact Zoe at zoe.leray@cornish-pirates.com
pqs: qs: