An trip to Worcester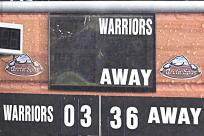 By Frank Stormont
August 29 2012
Yes a win away from home and against a Premiership side. The match in pictures
A trip to Worcester.
Yes you read it right a still not full strength side made the, what turned out to be a long journey up the M5 and came away with a strong win.
Worcester had already put out three strong sides in their pre season friendlies decided to give some of their less experienced and younger side.
It might not have been the strong test that our coaching team had planned but it certainly showed that Plymouth Albion has got promise in the Championship this season.
Check out full report on Albion's site >>>>
And just some of the photos I took on the night >>>>
pqs: qs: