Climbing the Walls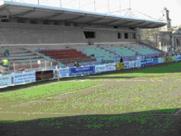 By Igwok
April 18 2020
Well it's a bit quiet on the rugby front, I for one have been getting my fix from the Rugby World Cup facebook page which is replaying 'classic' games in full.
A long summer lies ahead of us. This hopefully will be interspersed with updates on signings and retentions and the key news of the next head coach.
May 9th could be a key date – will rugby return to Devon in the form of the Bill Beaumont Championship? Still listed on the RFU site but with the first fixture just beyond the current 'lockdown' period, I won't be holding my breath. Could potentially be postponed to a later date but teams will still need time to train and prepare and get the fixtures in before next season's leagues start.
The Premiership is still holding out hopes for resuming their season, with 9 rounds left to complete and a finale it's starting to look a little tight.
Even when the lockdown is relaxed, there will still continue to be restrictions. Spectator sport doesn't look like something that would be allowed, televised maybe, but without a crowd in the stadium it's definitely going to lack atmosphere – who remembers the Scarlet's Stadium in the B&IC?
In the meantime let's all stick to the rules and keep safe.
pqs: qs: