A Ricoh by any other name...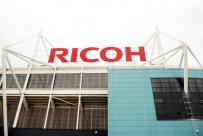 Is the end nigh?
By Vespulavulgaris
April 25 2015
With the naming rights to our new home coming up in the not too distant future there has been a lot of discussion as to what the new name of the Ricoh Arena may be.
Here is a summary of the ideas mooted by Wasps' fans.

1) It will stay as the "Ricoh". They certainly got a lot of exposure from the last few years, and with the increase in usage that is only going to get them more exposure. On top of that the council will be happy as they won't have to change any of the signs!
2) Jaguar Landrover. The smart money is on this option. After the sponsorship deal already agreed the sensible choice is to bring the whole thing online. They're local, they are big on sponsorship, and they already have a deal with Wasps. But what will the name be? The Jaguar Arena? The Landrover Arena, The Discovery Arena? Most people are suggesting The Landrover Arena.
3) Tata have been mooted as a possiblity, as have JCB, but whether it's likely only time will tell.

What do you think? Will it be one of the above, or something completely out of left field?

The Kraft Arena?
The Specsavers Arena?
The Findus Arena?

Stranger things have happened...
pqs: qs: