10 Things you didn't know about Wasps' Newest Signing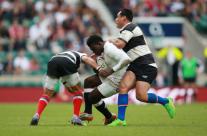 Smith tackles Wade
By Vespulavulgaris
June 4 2015
Recently Wasps announced the signing of Australian International George Smith for next season. If you have the slightest interest in Rugby you almost certainly know who he is, but here are ten things you might not know.

1) Despite playing for Australia George is of Tongan heritage and could have chosen to play for Tonga. His younger brother Tyrone currently plays Rugby League for Tonga.
2) For years he was instantly recognisable for his long dreadlocks, but in 2006 he cut them off and sold them to raise funds for a children's cancer charity.
3) He was the 75th Captain of the Australian national side, leading them for 7 tests.
4) He was the face of Electronic Arts video game "Rugby 2005"
5) He has been capped more times than any back row forward in the world with the exception of New Zealand's Richie McCaw
6) He was the highest paid rugby player in the world when he signed for Suntory Sungoliath in Japan.
7) He is a Member of the Order of Australia, a Chivalric organisation headed by Queen Elizabeth II
8) He holds the record for the length of time between his first test against the British and Irish Lions, and his most recent at 4382 days.
9) Despite being reckoned one of the best back row forwards of all time he is surprisingly short, being the same height as Joe Simpson, our Scrum Half!
10) He was the youngest ever player to win 100 caps for Australia, managing it before he even turned 30.
pqs: qs: