Back Where I Belong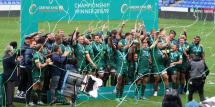 By LI Bohemian
May 2 2019
This final league game was supposed to be an end of season blow out, for me and friends I attend LI matches with, this was until one of them noticed the game was on Sky Sports, resulting in most deciding to stay in Blighty, to watch the game.
I luckily met a friend at Reading train station and then bumped into people we used to sit with in the days of the East stand, you are never alone long when supporting LI.
We sat with our East stand chums in the Madstad, as they knew some seats near to them that would be free, I then noticed a few more familiar faces around us that I had not seen all season, because of being an East stand exile Exile, I had vowed to stay in the West stand next season, but I could see directly opposite me my old seat. When I told the ex-easty gathering of my treacherous plans, a deathly silence spread among them, I think I heard I stifled sniffle, it could have been the onion in my hot dog but I felt a tear welling up, so I then and there changed my mind and will return to the East stand, where I belong.
The game kicked off, I was expecting the away side to score quickly at the start, as this seems a tradition for this season in home games, but it was Irish who chalked the first score.
The ET scrum-half put up a clearance kick that although had distance didn't make touch, the ball was well caught and shipped to Veitokani, who made a fantastic line break from nothing and shipped the ball with a one handed pass, the ball finally ending up being put down by Macken, in the opposite corner to the initial touch kick,.
Irish, well a solo Veitokani, to be more accurate scored the next try, The full back caught a long clearance kick in the Irish half, that was being chased up by ET, with the clever use of mirrors or some unexplainable hole in space-time, he eluded a would be tackler and accelerated into a gap that I could swear was not there and he just got faster and faster, until putting the ball down over the try line. after that point, Ealing's kicking of the ball got a whole lot better, in fact Ealing's over-all play got better.
The set piece play of Ealing was stronger than Irish for most of the game, but Ealing lacked the accuracy in attack and were thwarted by the robust defending of Irish.
Ealing scored a well taken try by Reon Joseph who for me was one of Ealing's best players on the day, he managed to work his way to the line slipping tackles and staying strong on his feet.
I had thought, at the time, that the game had swung back to Ealing's favour, but Irish scored again in broken open play, it was a try scored by a player, who has instantly become a real favorite of mine, Albert Tuisue, who was on the end of a pass whilst on the wing.
I will mention at this point how good I thought Atkins place kicking was, as most of the tries in the game, were scored out wide, his all around play is better by each game, he seems to be quietly developing into a decent fly-half.
Things then turned a bit ugly for Irish when at a ruck Paulo decided to clean out an Ealing player on the floor with a shoulder charge, it was reckless and unnecessary, it was good fortune for Irish that it was, shoulder to shoulder (not the song), if he had caught the player in the head or neck, it would have been a red card and not the warranted yellow.
After some poor discipline from Irish and Ealing sensing their chances against 14 players, the visitors were justly rewarded with a try in the corner.
HT score 19-12.

It was good to see and hear from Barry the Boot at half time as well as cheering the two LI women's teams who had achieved success.

Irish had to defend resolutely for the first part of the second half, until they were back up to a full compliment. Even then they were lucky that Ealings accuracy was left wanting at crucial times, some of this inaccuracy was down to good pressure by Irish on Ealing, this along with a piece of good fortune lead to the an Irish score, after a clash between two Ealing players the ball looped into the air and onto the floor, Williams was the first to react, he skillfully dribbled the ball over the try line and dived on it for the bonus point score.

Ealing were not finished though and upped their game, enough so to score a try, this could have been a big positive for Ealing but resulted in handing the contest to Irish, this was all down to the TMO spotting an Ealing player pulling Cilliers, of Irish, over a ruck, causing the full weight of Cillier's body onto his head and neck, this had happened in the lead up to the try, luckily it had happened at a low height, otherwise it could have caused a spinal injury, it left the official no other choice but to show a red card to the player and disallow the score.
Ealing never really got out of their own half, after the sending off and Irish had one final score, Mulchrone being pushed over the line by Lovejoy.
The final score being 33-12, not as close as one would think, looking at how Ealing prevailed in the league. I know it could be argued that Ealing played a less than full strength team, but so did Irish, I think that the teams were pretty evenly matched, but Irish had the skill in open play when it mattered, plus a man we call Freddie.
After the match there were celebrations for winning the league and acknowledgments for the players leaving, that was very well presented by the club.
For some of the players it was very sad to see them go, others well, not so sad, Topsy though is a different League, as he represents to me, the last player of a team that rocked the elite, and at the time, a team that played with guile and gusto, Topsy along with Tagi and Steffon epitomised why I support Irish and I will always hope for those days to return again.
Topsy has chosen the right time to retire and will still be with Irish in another capacity in the future, class.
pqs: qs: