The Final Frontier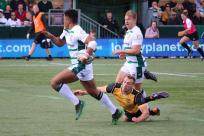 By Griff
May 15 2019
A last hurrah for the second Championship season was what London Irish supporters were hoping for as the flocked to Castle Bar in Ealing for the Championship Cup Final. Having secured promotion back to the premiership The Exiles were fairly jolly and the visiting support at the very least matched the Trailfinders massive for numbers. Party time!
I planned to go along not only to watch the game - a cup final is a cup final and they don't happen very often - but also to check out Ealing as a possible transport option for Brentford. I've never really used London's buses and wanted to check-out how it would all work. I can say it went O.K. no real problems getting to the ground although, as I always find, it did all take a lot longer than I'd expect. Luckily it was a late kick off and I'd allowed loads of time. Lunch in the North Star was pretty good, and there were a fair few Irish in there.
Meeting up with the old faces (I've known them a while, although some of them are old I suppose) at the ground I discovered we were situated on the side of the pitch opposite the club house and some eejit had built a shed pretty-much on the halfway line next to us. I know a lot of folks on here wax lyrical about traditional grounds and how our place is awful but I have to say every time I visit one of them I have issues with lines-of-sight. There were large parts of the pitch I couldn't see (and, while I'm not tall, I'm not short) reminiscent of The Wreck. Give me a soulless concrete bowl every time.
I'm not going to detail the match much (if at all). To be frank our boys looked like they'd finished their season the previous week, there was no zip and we failed to keep hold of the ball on the few occasions we got it. Ealing on the other hand were obviously up for it in spades and put together a great game - well done to them. I wasn't a great fan of Sir, he seemed to be failing to referee the breakdown at all which meannt the home side could all pile-on to rucks and prevent us turning them over. This didn't affect the result in any way, though, because every time we actually got the pill we either kicked it away aimlessly (in a howling gale) or simply dropped it forwards. It was also what we had to play with and we didn't seem to even try the same tactic ourselves (although the green-tinted part of me says Sir would've spotted us doing it...).
So Ealing scored twice to start both of them looked well worked but they were behind the shed so anything could've happened. Neither were converted but it left Irish 10 - 0 behind with no real sign of coming back... Until Ben Loader had the ball pressed into his gut around the half-way line and decided that if no-one else was going to have a go he might as well. A lovely jinking run and a Myler conversion later and it all looked a bit better.
With traded penalties we approached half-time 13 - 10 down but had one last roll of the dice with Scott Steele's quick tap-and-run close to the Trailfinders line being adjudged held-up by the TMO in the final play.
Hope that the second half would see a gear-change from the Exiles was quickly dispelled with Ealing maintaining the lion's share of the possession and making headway through an uncharacteristically lazy Irish defence. Eventually the pressure told an the home side opened-up a 10 point lead again which went out to 13 points with a further penalty.
In a mirror of the first half it took a single player's brilliance to make the difference. This time Terrence Hepetema (who toiled mostly fruitlessly all day) took a quick tap and positively launched himself through the Ealing line-defence for a superb score. Myler added the extras and we were set for a final 10 minutes 6 points down.
It wasn't to be a fairytale, though, it would've been an absolute travesty had we pulled it off. The better side won, Ealing were excellent and deserved their win. Given the possession the score actually flattered Irish. We've picked Ealing's pocket many times this season and finally they got their revenge 23 - 17. We did get to watch them accept their cup in the pouring rain from the sanctuary of their club house before toddling off to the Duke of Kent to lick our wounds, shoot the breeze and continue the party. While the result hadn't gone our way we had a pretty good day ot none-the-less.
pqs: qs: