Abu Dhabi GP: Final race of 2019 for ROKiT Williams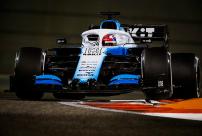 By Andrew Hooper
December 2 2019
The ROKiT Williams Team would complete their final race of the 2019 Formula One season with results that were in line with those of the rest of the season with George Russell finishing ahead of team-mate Robert Kubica. The pair would finish in 17th and 18th after a race that initially saw Robert ahead of George having made a better start but incidents during the race would see Robert's car damaged and he would drop back from George as the final stages of the race were completed. For Robert it was his last race for the Williams Team while George will be joined by Nicholas Latifi in 2020.
ROKiT Williams Abu Dhabi Grand Prix Race Review
The grid for the fifty five lap 2019 Abu Dhabi Grand Prix would see the ROKiT Williams drivers starting from 18th and 19th with George Russell ahead of team-mate Robert Kubica. For Robert this would be his last race for Williams. At the front it would be Hamilton on pole with Verstappen second. Leclerc was third followed by Vettel, Albon, Norris, Ricciardo, Sainz, Hulkenberg and Perez tenth. Bottas would be starting from the rear of the grid due to an engine change. For Leclerc he had been referred to the stewards after the race for an investigation as to the amount of fuel declared to be in his car. Both Mercedes would start on the medium tyre while for Williams they would take on the hard tyre. Leclerc was on the medium while Vettel was on the soft. Both Red Bull cars were on the medium while it was a mix of all three tyre types across the rest of the field.

The grid would complete their formation lap and with the start it would be Hamilton leading from Verstappen. Leclerc was third there would be contact between cars at the back of the field. Robert was running in 18th and George 19th. Gasly had dropped to last while Leclerc was now second. Gasly would pit minus his front wing taking on hard tyres. He had been hit by Stroll pushing him into Perez and his pit stop would be quite lengthy. Verstappen was third followed by Vettel, Albon, Norris, Sainz and Ricciardo eighth. DRS had been disabled due to a technical issue. Stroll would pit on lap seven changing to the hard tyre. This would see Robert and George 17th and 18th.
Norris and Giovinazzi, both on the soft tyre, would pit on lap ten coming back out in 17th and 18th with both now on the hard. This would see Robert and George in 15th and 16th but Norris would pass George seeing him drop to 17th. Norris would pass Robert for 15th seeing the Williams pair 16th and 17th. Ricciardo would pit changing from the soft tyre to the hard tyre. He would return in 15th ahead of the Williams. Both Ferrari's would pit on lap fourteen with both changing to the hard. Sainz was also in taking on the hard. Leclerc was now fourth but Vettel was seventh after a slow pit stop. Bottas was now sixth as Albon pitted on lap fifteen coming out in fourth with Leclerc moving into third.

Robert and George were 16th and 17th with Robert 5.8 behind Sainz. At the front it was Hamilton leading Verstappen by 9.8s with Leclerc third. Hulkenberg was fourth followed by Bottas, Vettel, Albon and Perez eighth. Magnussen had pitted on lap twenty two dropping to 14th. Robert was now up to 15th and George 17th with Giovinazzi in between them. Hulkenberg had also pitted dropping to tenth. Robert had make contact with Giovinazzi with parts coming from both cars. But Robert would remain 15th for a brief time but the Alfa would get past seeing Robert now 16th and George 17th. Verstappen would pit on lap twenty seven but Robert would also come in taking on the medium tyre. Verstappen was now third and on the hard tyre. Leclerc was again second as Hamilton pitted on lap twenty eight taking on the hard tyre. He would retain the lead.
With his pitstop Robert was now 19th and George who had yet to pit was 16th. Bottas would pit on lap thirty one taking on the hard tyre. He would return in sixth. As they passed George Verstappen using the DRS was able to get past Leclerc for second. Leclerc would try to fight back but was not able to get past the Red Bull. George would pit on lap thirty five taking on the medium tyre returning behind Robert with the gap 4.5s. George was able to use his newer tyre to pass Robert and quickly move ahead. George was 18th and Robert 19th. Perez would pit from eighth on lap forty taking on the hard tyre and returning in 12th. Leclerc would pit from third taking on the soft tyre followed by Vettel who took on the medium tyre. Leclerc was third with Vettel sixth.
It was a very lonely race for the Williams drivers with forty two laps completed. Sainz would pit on lap forty four taking on the medium tyre returning in 14th. Ricciardo would pit on lap forty five dropping to 14th taking on the soft tyre. Using the DRS and Perez would pass Hulkenberg for eighth. Stroll would pit seeing George moves up to 17th and Robert 18th. Kvyat would also pass Hulkenberg for ninth as Stroll retired in his pit. Robert would be passed by Gasly seeing him now 19th. Sainz was 11th with four laps remaining. Seventh placed Norris was under attack from Perez. Sainz continued to try and pass Hulkenberg for tenth but he now had Ricciardo right behind him. The leader would complete his last lap and would win in Abu Dhabi with Verstappen second and Leclerc third. Bottas was fourth followed by Vettel, Albon, Perez, Norris, Kvyat, and Sainz in tenth having got past Hulkenberg. For Williams George would finish in 17th and Robert 19th. Another difficult race for the Williams drivers as they say goodbye to a difficult 2019 season.
pqs: qs:
Abu Dhabi GP: Final race of 2019 for ROKiT Williams
Posted by: Williams F1 (IP Logged)
Date: 02/12/2019 05:58
What do you think? You can have your say by posting below.
If you do not already have an account
Click here to Register
.
Sorry, only registered users may post in this forum.