Another Nuno article and 'This day in History'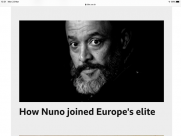 By Ivybridge Wolf
March 23 2020
First of all, my good wishes to all reading this, wherever you are. Keep well, keep safe. No sport, no football continues. I have found another Nuno article, this time from the BBC with the link below. It's another good write up, with comments from Hassan 'Kouka' Ahmed, the Braga centre forward on loan to Olympiakos, who came across Nuno during the players days at Rio Ave when Nuno was Manager. It's another decent, complimetary read of our fabulous Manager! Click on the 'BBC article' link below.
Secondly, a bit of 'This day in history'.
On Saturday 23rd March 1996 Molineux welcomed Birmingham City to face us in front of 26,256. Some of you will remember this one, quite a match, ebb and flow and a really dubious penalty awarded to The Blues. And I mean dubious.
It didn't finish there however ......... the ending was quite special from a special player! Enjoy these highlights, which I will place in the first thread below, and savour.
pqs: qs: