Match Thread: Sheffield United vs Wolves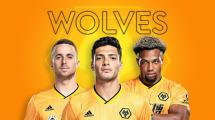 Wolves Strikeforce
By Wolves
September 14 2020
After an exciting week during which Wolves have broken their transfer record, brought in three new faces, and - most importantly - seen Nuno Espirito Santo commit to another three years at the club, our season begins in earnest tonight with another trip to Bramhall Lane to play Sheffield United.
After only a five week break since the disappoinment of the Europa League Quarter Final, Wolves face a tricky challenge against a team they were unable to conquer last season. However Nuno is as upbeat and positive as ever. He has said that our new signings - Fabio Silva, Marcal and Vitinho - will all travel as part of the squad, but is not saying whether any will start the game. Sadly Jonny is out of the squad until next year recovering from his knee injury, and of course Matt Doherty has gone to Spurs, so tonight's line-up will be interesting to look forward to.
Tonight's game will be screened by Sky TV on Sky Main Event and Sky Premier League, and will kick off at 6pm wuth the programme starting an hour earlier. Our referee will be Mike Dean, and Wolves fans will be hopeful that he won't want to make himself the star of the show again, as he did at Burnley last season!!
This board will hopefully carry regular updates and members are - as always - encouraged to post their observations for the benefit of those unable to watch it.
pqs: qs: