A call to arms…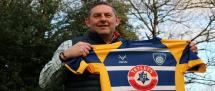 By WPL
January 22 2020
So the impact of Phil Davies feels like it is starting to take effect, certainly against Newcastle there seemed to be more basics done. Pick and drive, simple line out drills, don't be afraid to kick… Yes there are still areas of improvement, some within control some most certainly outside, mainly around training 2 evenings a week and a Saturday morning.
So where are we in the grand scheme of things? In all honesty we are still very much likely to be relegated, but I write this piece with an angle of positivity, this will continue for as long as possible. Despite how bad people say we are, we are not the 1st team to be relegated this season – that honour and vitriol of people who are claiming to be whiter than white goes to Saracens.
Let's look at the table, as it stands today we are 15 points behind Bedford and Nottingham, 16 points behind Doncaster and 17 points behind Hartpury. But scratch the surface…Bedford have won the last 2, Doncaster have just beaten Nottingham – I do expect these 2 to pull away. I think Hartpury could always call on Gloucester and Bristol for some key re-enforcements.
Nottingham, now this is interesting… Next game we are away at Jersey, realistically our European trip (hey we have to fly) is going to give us null points, it will be interesting to see what team we can take, this is where the full time work / part time rugby will come in. Nottingham have Falcons at home… they may scrape a losing bonus point.
Then we have a huge game… Carnegie vs Nottingham…is it too early to say do or die. Whilst I am probably being over optimistic even contemplating this as a question, It probably is. Lose this and whilst mathematically possible to stay up it will be even more unlikely than it is now. So it really is a call to arms for the fans, those that have become back interested due to the proposed name change and Phil Davies coming back to vote with their feet and their voices and turn up.
I'm not a judgemental person, there are reason why people can't / won't attend the game, can't get there on a Friday, other commitments, still not interested (then why are you reading this??? I would suggest you are interested!), all valid reasons to not come, but if you can come along do, even better bring a friend or 3. Remember under 16s are free!
Friday night rugby under the lights – let's see if we can create a noise for the boys and cheer them on for their first and what would be a critical W.
pqs: qs: